Snowed-in transplant patient finally able to leave Cumbria home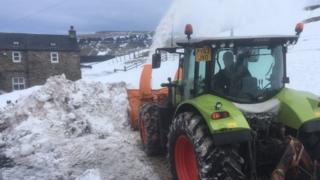 After nine days unable to leave their property in Nenthead, Cumbria, Gwen and Stan Hill were pleased to see snow blowers come to their rescue on Thursday.
Although much of the most disruptive weather from Storm Emma has gone, parts of Wales and Northern England have seen continued snowfall this week.
"No vehicles could get to us. Luckily our neighbours brought us provisions on foot," Gwen told the BBC.
Although the couple had electricity and heating, Stan has recently had a liver transplant and the couple were more concerned about attending his medical appointments.
"We've missed three already," said Gwen. "Stan's OK. We just don't know when we'll manage to rebook."
Earlier in the week, the couple thought help was arriving when they spotted a military helicopter flying towards their home.
Unfortunately, it landed half a mile away from their house.
"I think we were the people that time forgot. It had to be one of the most uplifting then heartbreaking sights when they didn't call in."
Despite the worry and frustration of being stuck, Gwen said it had been quite an adventure for them.
"Our sheep were snowed in so we both had to roll down in the snow to them and poke food inside their shelter."
You may also like:
As the drifts got deeper, Stan made an appeal on Facebook and also contacted the council. Finally, snow blowers arrived to clear the way.
"One phone call to some very helpful people on Cumbria Highways and a conversation with a very polite lady who must have been under so much stress and we are almost out," Stan posted online. "A little grit and that's the job done."
This is not the first time the couple have been rescued from adverse conditions. During the Great Storm in 1987, they were saved by the RNLI when their catamaran got into difficulties south of Portland Bill, off the coast of Dorset.
"We seem to be fated by the weather," said Gwen. "I used to love the snow, but now I don't want to see it ever, ever again."
By Sherie Ryder and Chris Bell, BBC UGC and Social News