Freezing temperatures 'will cause more potholes'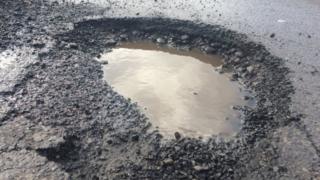 Freezing temperatures will lead to more potholes on UK roads, as snow and ice break up road surfaces, says the RAC.
Between Sunday and Tuesday, the RAC received 218 calls for breakdowns relating to potholes, compared with 104 between February and March.
It says the extreme cold weather has caused freezing water to get into cracks on already bad road surfaces.
The Department for Transport said it was investing £23bn on roads in England.
Local councils fix a pothole every 19 seconds, according to the Local Government Association.
Driving into them can break suspension springs, damage shock absorbers and distort wheels.
Parts of Wales and Yorkshire are facing fresh snowfall as schools are closed, flights are disrupted and drivers advised not to travel.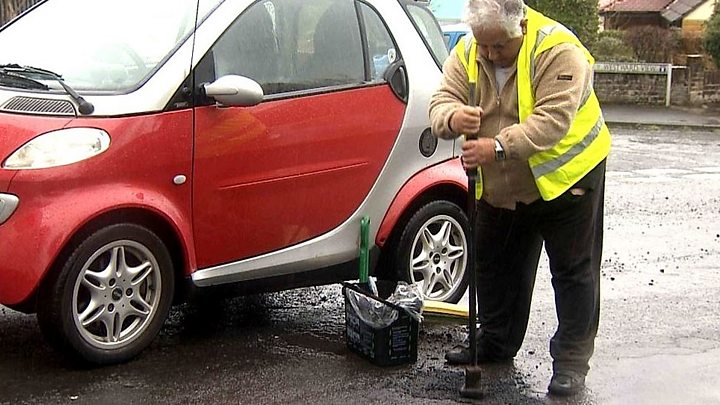 The RAC said after-effects from the cold snap could last for years to come as conditions "wreak havoc" on the roads.
"Our roads were already in a poor state of repair before the extreme cold weather hit," a spokesperson said
"We fear this spring may see the emergence of almost as many potholes as daffodils."
Meanwhile, charity Cycling UK has warned potholes pose a high risk of personal injury or in the worst cases, death.
A Department for Transport spokesman said it was investing a "record" £23bn on roads.
"We know road surfaces are a concern for all road users and that is why we are providing local highway authorities in England, with just under £6bn to help improve the condition of our local highway networks.
"We are also giving local authorities a record £296m through the pothole action fund - that's enough to fix just under six million potholes."
In Scotland, local authorities were given £10.4bn this year and the Scottish government says it is up to them to manage their own budgets.
A spokeswoman said the government has said it is open to discussions about the costs linked to the severe weather.
You may also be interested in:
Storm Emma's widespread cold weather also caused travel disruption across much of the UK last week.
Stations were closed, train networks shut down early and drivers were advised not to travel - some for several days.
It also caused burst water pipes leaving thousands without a supply in London, East Sussex, Kent and Wales.