Saudi Arabia: Has the rate of executions doubled?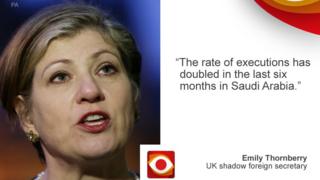 Claim: In the past six months, the rate of executions in Saudi Arabia has doubled.
Reality Check verdict: Emily Thornberry's office clarified to BBC Reality Check that she meant the past eight months, not six months. Saudi Arabia does not release official statistics on the number of executions it carries out. However, her figures are broadly correct, according to prominent human rights organisations.
Shadow foreign secretary Emily Thornberry made the claim in an interview on BBC Radio 4's Today programme on Wednesday, while criticising what she called the UK government's "red-carpet treatment" of the Saudi Crown Prince Mohammed bin Salman's three-day visit to the UK.
BBC Reality Check contacted her office to ask for her source - her office clarified that she had misspoken and that she had meant the rate of executions had doubled in the past eight months, since July 2017.
Mohammed bin Salman was made crown prince in June 2017.
Number of executions
The Saudi government does not release official statistics on the number of executions it carries out, but state media does report frequently on executions.
Ms Thornberry's figures come from Reprieve, a human-rights campaign organisation - its figures come from a compilation of these state media reports, which are publicly available. BBC Reality Check has seen the organisation's database of these reports.
Between July 2017 and February 2018, Reprieve says, there were 133 executions in Saudi Arabia (on average 16.6 a month), compared with 67 between October 2016 and May 2017 (on average 8.4 a month).
In June 2017, most of which was in the Muslim holy month of Ramadan, the organisation found no reports of executions.
Reprieve's figures are broadly in line with those of Human Rights Watch, another campaign group, which has separately compiled Saudi Press Agency reports.
Human Rights Watch says there were 138 executions between July 2017 and February 2018, and 68 for the earlier period.
Global comparison
A lack of transparency around execution figures is not uncommon - most of the data for international comparisons comes from human rights organisations such as Reprieve and Amnesty International. In 2016, these two organisations' figures were broadly in agreement.
Based on these figures, globally Saudi Arabia ranks third highest in the world, behind China and Iran.
Both said that China had executed the most people, although they were unable to provide a figure - the number of executions is a state secret in China, and the groups say they believe that those reported in the media "are likely to be a fraction of those that are carried out".
Similarly, although Amnesty International puts the number of executions in Iran at more than 567, and Reprieve has the lower figure of more than 534, Reprieve notes that "the actual number of executions is likely to be higher... given the government's under-reporting of executions and the holding of secret executions".
In a press release, Reprieve pointed out that the doubling of executions had coincided with Mohammed bin Salman's appointment as crown prince, "in marked contrast to the headline-grabbing reforms that have been introduced in the Kingdom".
Dr Kristian Coates Ulrichsen, from the Baker Institute for Public Policy at Rice University, told the BBC that the number of executions had escalated sharply in 2015.
"My reading is that the higher rate of executions is partly due to a decision by the Saudi authorities to carry out a large number of death sentences that had been imposed but not acted upon during the reign of King Abdullah," he said.
"It's hard to pinpoint any one issue over the past eight months which might explain why there has been such a sudden jump," he added.
A researcher for Human Rights Watch said that the lack of transparency from the Saudi authorities made it "hard to find a pattern to it all".
Saudi Arabia's record on human rights has come under scrutiny during the crown prince's visit, with the leader of the opposition, Jeremy Corbyn, challenging Theresa May on it during Prime Minister's Questions on Wednesday.
The prime minister said she would be raising human rights issues with the crown prince.
Reality Check contacted the Saudi Arabian embassy in London for comment but had not received a reply at the time of publication.