Thousands without water for a third day after UK's big freeze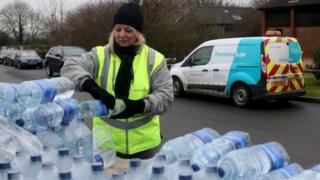 Thousands of homes are without water for a third day in parts of the UK after a sudden rise in temperature caused frozen pipes to burst.
Companies have been supplying bottled water while they reconnect customers in London, Kent, Sussex and Wales.
South East Water says about 1,000 homes and businesses still have no supply.
The industry regulator Ofwat said it understood the recent weather was an issue but added suppliers had "fallen well short" on forward planning.
London Mayor Sadiq Khan also criticised the companies after thousands were left without water in London and schools were forced to close on Monday.
MPs have called for a public inquiry into the matter and compensation for those who have been affected.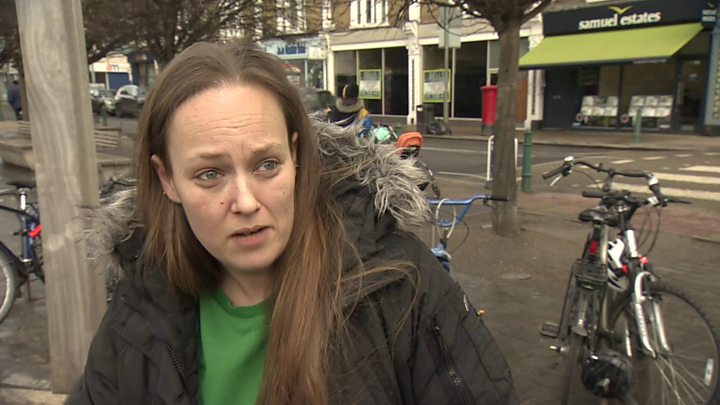 Water companies say a thaw has led to burst water mains and leaks. Many have set up bottled water banks.
In Wales, 1,500 properties remain without water, Welsh Water said. The company warned water could be discoloured when supplies are reconnected.
Thames Water, which supplies water to London, says around 5,000 customers are still cut off.
Meanwhile, in Hastings, East Sussex and surrounding areas some 3,000 homes have low water pressure or no supply.
On day three of no water, Sandra Daniels, who lives in Hastings, tweeted:
"Toilets are disgusting again until we steal water in containers from family tomorrow. Want a shower and hair wash."
Environment minister Therese Coffey said Ofwat would be "given any powers it needs" when it reviews how companies have acted.
She added it would be "thorough" in identifying problems and examples of good practice and that the regulator would decide if statutory compensation should be paid to affected customers.
'Crazy' traffic
On Monday, car firm Jaguar Land Rover and chocolate maker Cadbury reduced production at their West Midlands' plants.
Meanwhile, roads were "gridlocked" in the Northfield area of Birmingham when people tried to get bottles of water from a supermarket in the city.
The government's water industry regulator Ofwat has released a statement which said a number of water companies had "fallen well short on their forward planning".
Rachel Fletcher, chief executive of Ofwat, said customers had been left "high and dry" because of firms' support and communication.
She said: "Water companies have been warned time and again that they need to be better at planning ahead to deal with these sorts of situations."
You may also be interested in:
Are you facing water supply problems? Share your experiences by emailing haveyoursay@bbc.co.uk.
Please include a contact number if you are willing to speak to a BBC journalist. You can also contact us in the following ways: