Prison violence and gangs targeted by justice secretary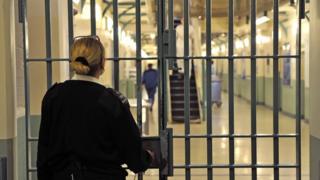 Measures to clamp down on violence and the smuggling of drugs, phones and weapons in prisons have been unveiled by Justice Secretary David Gauke.
A unit to tackle serious and organised crime in jails in England and Wales is also being set up.
A review of where prisoners are held could see those inmates who pose a risk of committing crime behind bars moved to higher-security jails.
The National Crime Agency says one in 13 inmates have organised crime links.
It estimates some of these 6,500 offenders continue to be involved in criminality behind bars, including controlling the supply of banned items like phones, and illegal items like drugs and weapons, which are blamed for fuelling instability.
In his first major speech since being appointed justice secretary in January, Mr Gauke said new technologies had empowered gangs to be more "sophisticated and brazen".
He said Spice and other drugs could be "ordered with a 'Deliveroo-style' responsiveness on tiny mobile phones from prison cells and delivered by drones direct to cell windows".
Gangs engineered situations where released prisoners deliberately breached their licence conditions so they were sent back to smuggle in more drugs, he said.
Mr Gauke said he was "shocked and sickened" by videos posted on social media which showed the "terrifying" impact of Spice on prisoners and he said the drug had been linked to attacks on prison staff.
To help prevent contraband going into prisons, technology that allows officers to instantly download data from mobile phones seized from prisoners - meaning the phones do not have to be sent away to be processed - will be installed at 30 jails.
Mr Gauke also announced an overhaul of the prisoners' incentives and privileges scheme to encourage inmates to "play by the rules".
Prisoners would get extra family contact via Skype and could be released temporarily, if they behaved well behind bars, he said.
"I know that incentives work and I want to put them to work in prisons," said Mr Gauke.
He added that it was his "aspiration" to cut the prison population, but said there would be no "artificial target".
'No place to hide'
Mr Gauke also promised to "remove the influence" of gangs so prisons can become "places of hope not despair".
Under current rules, inmates can be moved during their sentence if their categorisation changes.
A proposal being examined by the government would see the risk of continuing criminality in prison taken into account.
Offenders who pose a risk of crime in jail could be moved to prisons with more restrictive regimes.
Many of these prisoners are currently held in lower-security prisons because they are serving short sentences and are not assessed as likely to escape.
Mr Gauke said: "We are taking action to bolster our defences at the prison gate and going after the organised criminal gangs.
"I want them to know that as a result of the action we are taking, they have no place to hide."
But Labour's shadow justice secretary Richard Burgon criticised Mr Gauke's speech and said the Conservatives had "nothing to offer" to address the prison crisis.
"Tory cuts to staff and budgets have created the dire situation in our prisons," he said.
"With even greater budget cuts planned over the coming years, there is a real danger that our prisons will move beyond crisis to a full-blown emergency."