Staff without security clearance monitor offenders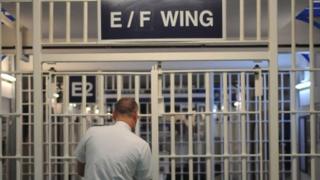 Staff without security clearance are being allowed to monitor high-risk offenders living in approved premises - commonly known as bail hostels or probation hostels - the BBC has learnt.
Earlier this month, two private firms, Sodexo and OCS, began providing overnight staff cover at the hostels as part of a new government contract.
The government has confirmed that some of these staff will not be vetted.
The union Unison has accused ministers of "gambling with public safety".
The Ministry of Justice has said any staff without security clearance would work alongside "fully-vetted" members of the National Probation Service.
In a letter to union leaders, Justice Secretary David Gauke said there would be a "60-day grace period" to allow contractors to complete criminal record checks and get licences from the security industry authority.
There are about 90 approved premises across England and Wales that provide 2,200 places for released prisoners - the majority of whom have served long sentences for violent or sexual offences.
Offenders are sent to live in the hostels as a condition of their release from prison or if the court believes they need a higher level of supervision in order to protect the public and to reduce the level of reoffending.