A real white wedding and other snow stories
Snow has caused disruption across the UK. Here are some of the quirkier stories of people battling against the elements.
A white wedding despite the odds
With heavy road disruption and travel chaos, a wedding in snowy conditions could be tough.
Rebecca McKenzie and Daniel Hodgson were due to marry on Thursday at St Cuthbert's church in Benfieldside, Shotley Bridge, County Durham.
However, the road to the church was impassable due to the heavy snow.
A Facebook appeal was made and dozens of helpers, some with diggers, came forward to clear the path.
Stranded groom makes big day after act of kindness
It took the kindness of a local car dealership to get groom Mike Enright to his wedding on time.
Heavy snow left Mr Enright, his parents, and best man Ben Yarnell stuck 25 miles from the Lincoln wedding venue.
But after an appeal on local BBC radio, two 4x4s transported the party - and the wedding cake - to waiting bride, Gina Metcalf.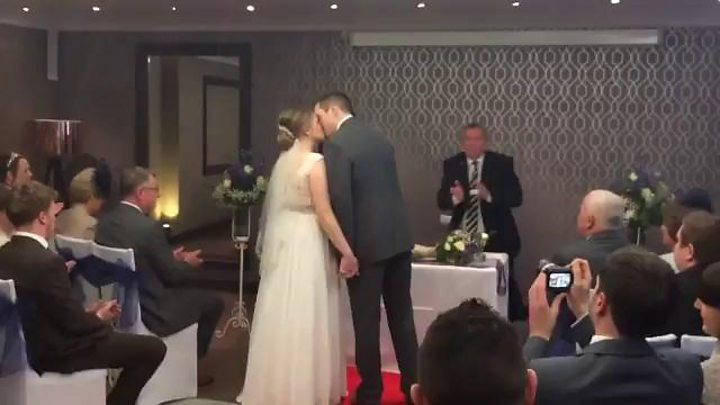 An orchestral surprise
When the BBC's Concert Orchestra - in Skegness, Lincolnshire for a now-cancelled schools project - discovered a wedding at their hotel, there was only one thing to do.
With some instruments stranded on a lorry the other side of the town, those with something to play prepared a version of Pachelbel's Canon.
The bride was told of the plan, and was thrilled to accept.
Baby born on roadside in the snow
A woman has given birth to a baby girl in a car on the roadside of the A66 in snowy County Durham.
Daniella and Andrew Waring were on their way to hospital when they realised they weren't going to make it in time.
Mr Waring said he pulled over and copied what he had seen when he was at the birth of his other two children.
"I opened the passenger door and knelt in the snow to deliver the baby," he told the BBC.
Anne Hodgson, ward sister at Darlington Memorial Hospital, said mother and baby were doing well despite their experience.
The plane-spotting honeymooners
Chris and Vicky Robinson were excited to celebrate their honeymoon with a balmy luxury holiday in the Maldives, away from their home of Stranraer.
Unfortunately the newlyweds did not arrive in the 30C heat of the Indian Ocean on Wednesday, but instead spent the night in Glasgow Airport.
Mrs Robinson said: "There were tears to start with but there's not much you can do."
The near miss on the bus in Edinburgh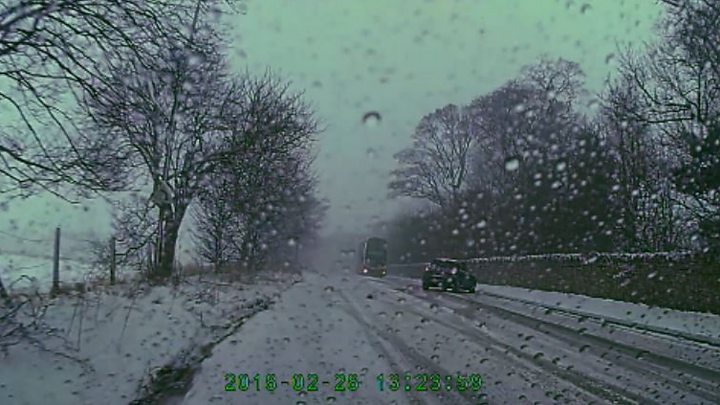 In some areas of the UK, roads are like ice rinks. That was the case on a road in the Fairmilehead area of Edinburgh.
A car became stranded on the wrong side of the road, veering into oncoming traffic.
Luckily a bus driver swerved in time to avoid the vehicle.
Jake Humphrey, the new Alan Partridge?
Due to the heavy snowfall some rural communities have found themselves cut off from basic amenities like shops and GP surgeries.
In some areas of Norfolk you would need a 4x4 to get around. Luckily Norwich-based TV presenter Jake Humphrey has one, and he's here to help.
Taking to Twitter he offered his help to "anyone vulnerable" who may need a visit or "a bit of shopping doing".
But his kind gesture led to ridicule as some compared the selfless act to car-bragging fictional radio DJ Alan Partridge. One comment asked: "My friend Alan can't get his Rover out, he's stuck at the Linton Travel Tavern near you."
The recovery vehicle that caught fire
Drivers on the M62 between Milnrow and Saddleworth were facing treacherous conditions on Thursday morning after some had become trapped on the icy road.
Luckily a Highways England vehicle came to their aid, unfortunately a bad day got worse when the recovery 4x4 caught fire.
Jordan Schofield, who witnessed the incident wrote on Twitter: "The last thing you want to see is the car that's pulling people out... set on fire."
Highways England said no-one was injured.
The postmen that still deliver in shorts
With wind chill making the temperature in parts of the UK feel like -12C, most people would wrap up with long johns and winter warmers before daring to weather the outdoors.
But not for postman Kev Park in Weymouth, Dorset. Amazingly he is not the only on. Twitter users also photographed short-wearing posties battling the snow in Sheffield and Truro.
The Essex boys that built an igloo in Glasgow
It doesn't matter what age you are, everyone loves to build a snowman. But what happens when you're without a scarf and carrot?
Two tourists from Essex decided to take on a more ambitious project, and build an igloo in George Square, Glasgow.