Terror threat from Northern Ireland downgraded by MI5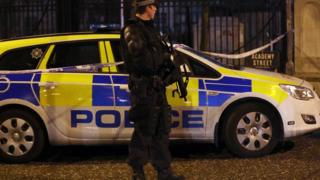 The threat level from Northern Ireland-related terrorism has been reduced from substantial to moderate in mainland Britain, MI5 says.
The new level means that an attack is considered possible but unlikely. It is the second lowest rating.
The reduction applies to England, Scotland and Wales. The threat level in Northern Ireland remains severe, where an attack is considered highly likely.
The threat from international terrorism also remains at severe.
Home Secretary Amber Rudd said: "Despite the change which has been made today, there remains a real and serious threat against the United Kingdom from terrorism," and she urged the public to be vigilant.
In a statement, Ms Rudd said the threat level was set independently of government by security services, who consider "capability, intent and timescale".
The Northern Irish terror threat had been raised to substantial in May 2016, although authorities did not disclose any reasons for their belief that the threat had increased.