Storm Emma: It's -4C outside yet some homeless people are choosing street over shelter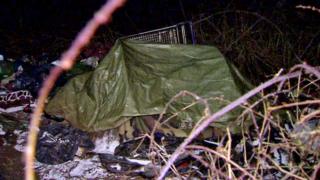 Tim, 22, has been calling a snowy field beside a motorway in north-west London home for the past two years.
He lives in a tent that struggles to stay still against the wind on this bitterly cold night. He has an old duvet to keep himself warm and a green tarpaulin to remain as inconspicuous as possible.
The sub-zero weather that has swept across the UK has not helped his plight.
When temperatures fall below freezing, local authorities have a duty to provide emergency shelter for anyone who is sleeping rough.
Tim is standing on the frosty ground in his bare feet. He appears to have frost and snow in his hair.
"I think it's mould to be honest. I haven't got anywhere to shower, so that's how it's become unfortunately."
Tim is one of the 4,751 people estimated to be sleeping rough in England, according to government figures. That is 15% more than last year.
He says his local council has refused to offer him housing, as it believes he has made himself intentionally homeless. Tim says he has been diagnosed with borderline personality disorder, a condition that makes it difficult for him to live with other people.
"I've lived in house-shares before and have fallen out with people. They say that's my own fault."
Alan is a 42-year-old military veteran who has been sleeping rough for four years.
He says he copes with the cold by turning to alcohol: "I have a drink now and again… I don't do needles - I can show you my arms if you want. I don't deal with that rubbish. I just drink. It just gets me to sleep."
His hands tremble violently as he attempts to roll a cigarette.
"I would love to have a night in a shelter," says the former Army man, who went on to work as, among other things, a window cleaner. But he points out that when temperatures edge above zero again, he would be back out on the streets.
He previously rejected homeless shelters because of the violence.
"It's rife because no-one's managing these things properly. I've been told by a lot of homeless people you're probably better off out here than you are in there."
Alan says he usually chooses to sleep in doorways because he doesn't like to bother people.
He's aware of the risks and mentions the homeless man who, last month, was found dead in Westminster, central London.
"Of course I am frightened of dying. I'm not worried about being attacked, the only thing that's going to hurt me is the weather."
Even during extreme weather rough sleepers are afraid of accepting support, says Jamie Shovlin, an assistant support worker at homeless charity Thames Reach.
"Some people get used to the streets - we call it entrenchment. They're committed to the streets, it's what they know.
"The longer they're out, the more difficult it is to convince them to come off the streets because what you're going to be able to offer them is not necessarily going to be what they want, [or] what they expect."
Mr Shovlin and his colleagues spend the nights during extreme weather seeking out homeless people who are often referred to them by members of the public, and convincing them to visit a shelter.
This process takes time and even sub-zero temperatures or the risk of death is not enough to convince many homelesss people that they want to receive help.
"They might have entered into a similar situation previously and had a bad experience, so you're offering them an unknown situation, whereas their current argument would be they know how to deal with the streets," he says.
Eventually, Mr Shovlin manages to convince Alan to come with him to a nearby shelter.
Tim, however, refuses.
He insists that he is fine and that -4°C is manageable.
"It's quite cold but I'm all right because I've got a duvet, and that helps a lot."
Alan and Tim's names have been changed.
Sorry, your browser cannot display this map