Spice Girls 'invited to the royal wedding', says Mel B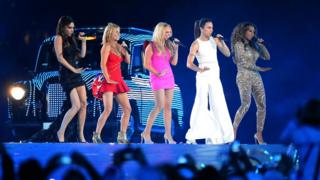 All five Spice Girls have been invited to attend the wedding of Prince Harry and Meghan Markle later this year, Scary Spice Mel B has said.
Appearing on a US talk show, she nodded when asked if they were going, before clarifying that "us five Spice Girls" had each received an invitation.
She also sparked speculation they could perform at the wedding, joking she would be fired if she said any more.
Prince Harry will marry Ms Markle on Saturday 19 May.
Appearing on talk show The Real, Mel B threw some papers she had been holding into the air when asked about a possible performance at the wedding reception.
"I need to go, I'm going to get fired," she jokingly told the hosts.
Asked what the invitation looked like, Mel B - real name Melanie Brown - added: "That's getting too personal if I actually describe it."
The Spice Girls - Brown, Victoria Beckham, Geri Horner, Emma Bunton and Melanie Chisholm - recently confirmed they are planning to work on new projects after meeting for the first time since 2012.
Horner posted a photograph on social media of the quintet meeting earlier this month, saying "girl power is alive and well".
They group said in a statement: "We all agree that there are many exciting possibilities that will once again embrace the original essence of the Spice Girls, while reinforcing our message of female empowerment for future generations."
Prince Harry and Ms Markle are to marry at St George's Chapel, Windsor Castle.