UK snow: Why is my train cancelled in cold weather?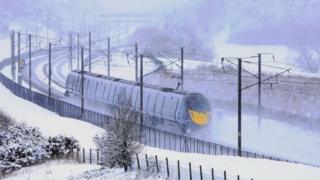 As the so-called beast from the east headed for the UK, hundreds of train services were cancelled in anticipation. But was it really necessary?
On Monday, a number of private train operators, including South Eastern, Greater Anglia, Southern, c2c, Greater Northern and TFL Rail announced reduced timetables ahead of the forecast snow and freezing conditions.
But not all commuters were convinced the cancellations were required.
Why are so many services affected?
Normal services have been cut to allow engineers to focus on keeping the main parts of the rail network open. Compacted snow can turn into solid ice and prevent points - which direct trains from one track to another - from working, according to Network Rail.
One train operator, Greater Anglia, said its limited service was to allow track engineers to deploy "snow ploughs, points heaters and snow clearing teams".
But it's not just snow that causes problems. Frozen rails can stick together, causing signals to stay red and stop trains.
The UK's systems - especially in rural areas - are not designed for the extreme temperatures we're seeing this week, Tony Miles from Modern Railway magazine explained.
Engineers would need to be sent to de-ice problem areas, he said.
"Network Rail go on advice from the Met Office," Mr Miles added. "It's better for companies to under-promise and over-deliver."
But Anthony Smith, chief executive of the independent watchdog Transport Focus, said blanket suspensions are "worrying".
"The industry needs to better communicate why such drastic action is necessary," he added.
Network Rail has since admitted snow was not as bad as anticipated in Anglia and said it was working to restore a full service by Wednesday.
Does anyone profit from cancelled trains?
A report in the Daily Telegraph has suggested there could be a financial incentive for private train operators, who get paid compensation from Network Rail for cancellations and delays to services caused by bad weather or engineering work.
It reports that between 2011 and 2017 rail companies were handed more than £2bn in compensation by Network Rail. Over the same period passengers received £187m in compensation from rail operators.
But the Rail Delivery Group (RDG), a pan-industry body, said the payments were overseen by the rail regulator and were "completely separate from the money customers rightly receive for delays".
Network Rail provides the infrastructure upon which services run.
If it fails in its obligations, train companies are paid to cover the revenue lost, the BBC's transport correspondent Victoria Fritz explained.
"On the other side of the relationship, train operators must pay the track operator for the privilege of using the network.
"Track charges make up 25% of Network Rail's revenue."
"No train company wants to lose fare revenue," Fritz added.
"Their forecasts are based on passenger growth and revenue growth.
"So it's not exactly fair to say that train companies rub their hands in glee when it gets a bit nippy."
What can passengers claim?
Passengers received £74m in compensation last year, five times more than five years earlier, according to the RDG.
But the process is not always straightforward.
If your pre-booked train is cancelled or delayed and you choose not to travel, you are entitled to a refund on most ticket types.
Once an emergency timetable with reduced services has been put into action, passengers who buy on-the-day tickets are unable to claim compensation for a cancelled train as the train operators have given notice.
However you can claim against the revised timetable. So if the trains that are advertised to run are delayed by more than 30 minutes, you can still make a claim to the individual train operator under the delay repay scheme.
This process differs depending on the type of ticket you're travelling on and with whom.
But the offer of a refund is unlikely to please everyone...