Children sold corrosive substances in Newham despite voluntary crackdown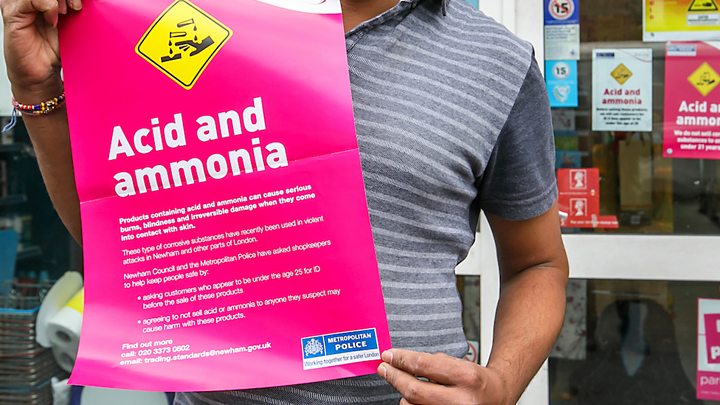 Corrosive substances were bought by children in a London borough suffering a record level of acid attacks, despite a voluntary crackdown in local shops, according to Newham Council.
In four council enforcement tests, 11 of 23 retailers sold to a child.
BBC 5 live Investigates was present at one of the undercover investigations where a 14-year-old girl was able to buy bottles of bleach in minutes.
The government is reviewing law around the sale of corrosive substances.
Newham has been dubbed the "acid attack capital of Britain" in several papers.
The BBC can also reveal new figures showing there were 646 acid attacks in England and Wales last year, more than three times as many as in 2013.
Voluntary scheme
BBC 5 live Investigates was present during the operation led by Newham Council and the Metropolitan Police, in which the teenager bought the bleach.
Three out of five shops sold the girl household cleaner, which suggested not all retailers were observing their pledge not to sell corrosive substances to anyone aged under 21.
The voluntary scheme was introduced last year and 182 local retailers signed up to it.
This followed almost 300 violent offences involving corrosive fluids in Newham between 2015 and 2017.
Newham Council has demanded the government goes further and introduces a ban on the sale of these substances to children.
"We demand the government acts urgently and introduces licensing for the sale of all corrosive substances and noxious liquids as a priority," the council said in a statement.
"We cannot afford for the government to prevaricate on this issue. It must bring forward this legislation urgently."
Acid attack victim Adele Bellis, who lost an ear and suffered severe scarring when her ex-partner paid another man to throw acid at her in Lowestoft in 2014, said she is worried about the difference in prison sentences handed out to offenders.
"There's no consistency in all the sentencing," Ms Bellis told Metropolitan Police Detective Superintendent Mike West during an interview between the pair carried out for 5 Live Investigates.
"My attacker got four years, do half and is out, false identity and living his life while I'm in hospital, no further really in my recovery," Ms Bellis said.
Det Sup West, the Metropolitan Police's lead on corrosive-based crime, said: "Whilst it is a case-by-case basis, at the end of the day it is a serious assault you've been subjected to. I would challenge that as well, to say that isn't sufficient."
The BBC sent Freedom of Information requests to 46 police forces, asking for the number of acid attacks they had recorded, but not all replied with full information.
A total of 25 forces reported an increase from 182 attacks in 2013 to 646 last year.
The majority were in London, which recorded 464 incidents in 2017, compared with 131 four years earlier.
In a statement, the Home Office said: "We are considering responses to our consultation on legislative proposals to prohibit sales of corrosive products to under-18s and creating a new possession offence, and have put in place a set of voluntary commitments with retailers to restrict access to most harmful products.
"The Home Secretary announced in July 2017 an action plan to tackle the use of corrosive substances in violent attacks and we are making good progress on implementing this."
---
5 live Investigates is on BBC Radio 5 live, 25 February at 11:00 GMT - catch up on BBC iPlayer Radio.
Have you got something you want investigating? We want to hear from you. Email us.