'Devil incarnate' Barry Bennell sentenced to 31 years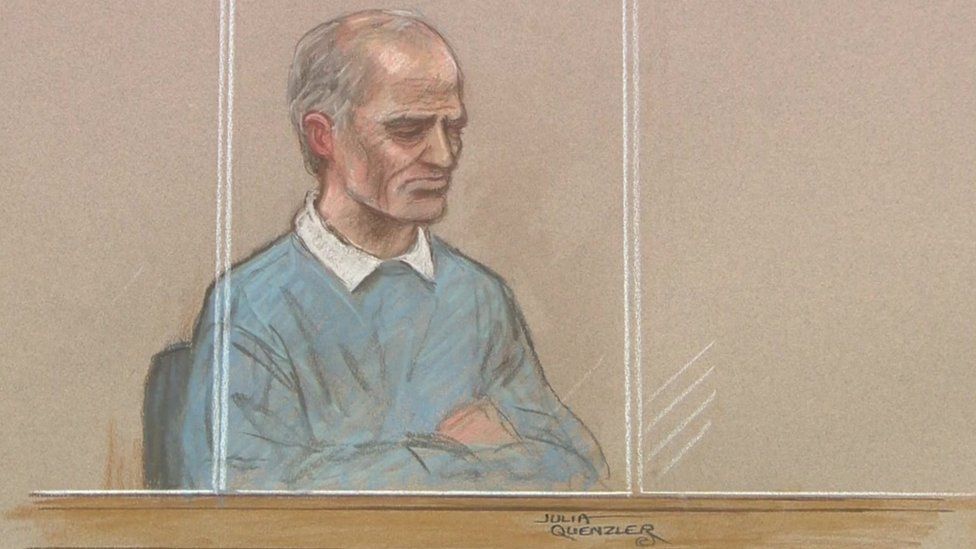 Ex-football coach Barry Bennell has been jailed for 31 years at Liverpool Crown Court for 50 counts of child sexual abuse.
Bennell, described as the "devil incarnate" by the judge, was convicted of abusing 12 boys aged eight to 15 between 1979 and 1991.
Judge Clement Goldstone QC said Bennell, 64, was "sheer evil".
He will serve half of a 30-year sentence in custody, with the rest on licence.
He was also sentenced to an additional year on licence.
Bennell shook his head as the judge sentenced him and there was clapping from the public gallery as he left court.
"To those boys you appeared as a god... in reality you were the devil incarnate," Judge Goldstone said.
"You stole their childhoods and their innocence."
Bennell remained impassive in the dock, staring at the floor, as victims' statements were read.
He was ordered to attend Liverpool Crown Court for the hearing, having previously appeared via video-link throughout the five-week trial due to illness.
The BBC's John Harrison, in court, said seven of the 11 jurors came back to hear the sentencing.
The judge said Bennell, who worked at Manchester City and Crewe Alexandra, was "hell-bent" on abusing boys, and left a "trail of psychological devastation".
"If the boys tried to resist, you convinced them their football careers would suffer," he said.
Outside court, victim Andy Woodward said: "No sentence is long enough for that man and right to the death he didn't show any remorse or say sorry to anyone.
"I'm proud that I did speak out. If I hadn't have done, we all wouldn't be stood here now today."
Another victim, Micky Fallon, said: "Today we looked evil in the face and smiled because, Barry Bennell, we have won."
Gary Cliffe, another victim, said: "We did not forget, we came after you, Bennell, and now you are in prison due to us."
He urged other victims to come forward, saying: "The hurt is not yours to carry, it is his."
And Chris Unsworth added: "This is a testament that love will always conquer evil."
In a statement outside court, Bennell was described as a "predatory paedophile" by Cheshire Police's detective inspector Sarah Oliver.
"To this day there is no evidence that he has any remorse or regret for the dreams he has shattered and the lives he has damaged," she added.
She said that although "no term of imprisonment can ever return a childhood taken away... I hope that this sentence will serve as a beacon of light to others that have been abused".
By John Harrison, BBC News, at Liverpool Crown Court
Bennell shook his head as the judge at Liverpool Crown Court detailed his horrific crimes.
The ex-football coach had earlier listened to the impact statements of some of his victims.
Some spoke of feeling suicidal. Two said they felt unable to have children after suffering abuse.
Others spoke about using drink and drugs to numb the mental anguish they suffered in later years.
After reading out his statement, Gary Cliffe, one of Bennell's numerous victims, walked towards the dock asking: "Barry, Barry, why?"
Bennell did not give him an answer.
After the judge ordered him to return to the cells, there was stifled applause from the packed public gallery.
Bennell, the judge added, was likely to die in prison.
Earlier, victim impact statements were read to the court, with one saying Bennell "took his one and only childhood".
Another statement, from a man abused when he was aged 12 to 13, said: "I did not want it, did not ask for it. That monster decided it was fun to use me as a sex toy."
At the sentencing hearing, Bennell's lawyer, Eleanor Laws QC, had argued that poor health "means his time in custody will be less comfortable and more difficult than it would be for someone without all these concerns."
She said he had suffered from cancer in the past and had operations to remove tumours from his tongue but was presently cancer free.
She said he was also on anti-anxiety medication.
Bennell was previously convicted of of child abuse on three occasions. He received jail sentences in the UK and in the US in 1995, 1998 and 2015.