'More' prisoners to be freed with tag as early-release scheme simplified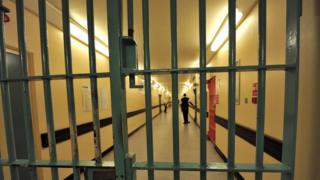 More offenders could be freed from prison in England and Wales with an electronic tag under government plans to simplify an early-release scheme.
The Ministry of Justice says only a fifth eligible for "home detention curfew" are currently being released.
The move may reduce pressure on prison numbers - but the type of offenders the scheme covers is not being changed.
It applies to terms of between three months and four years and excludes sex, weapon and certain other offences.
Foreign national prisoners and people convicted of violent offences, terrorism, or those who have previously breached a curfew are also excluded.
The scheme - introduced by Labour in 1999 - sees prisoners freed between two weeks and four-and-a-half months before their automatic release date.
They are made to wear a tag and abide by a curfew.
'Not an expansion'
Figures released this week show the total population of prisons and immigration removal centres remains high at 84,255, under an overall capacity of 86,771.
There are currently 2,770 people subject to home detention curfew (HDC).
The Ministry of Justice says simplifying the administration of the system will reduce delays, and increase the numbers released.
In an instruction to prison governors the MoJ said only 21% of offenders eligible for the scheme are being released.
The MoJ said it wanted the curfews to be "a normal part of release".
It also wants governors to review cases where home detention curfew has been refused, often because the address inmates plan to move to is deemed unsuitable.
The MoJ said: "We are not expanding the scheme to allow the release of any prisoner who was not already eligible and could be released on HDC.
"We are simplifying the HDC process, reducing the number of forms used in the assessment process and maintaining the strict eligibility and suitability tests.
"This will mean governors can make well-informed, more timely decisions and ensure robust risk management plans are in place for offenders released under the scheme."