Reality Check: How much UK charity money goes to Oxfam?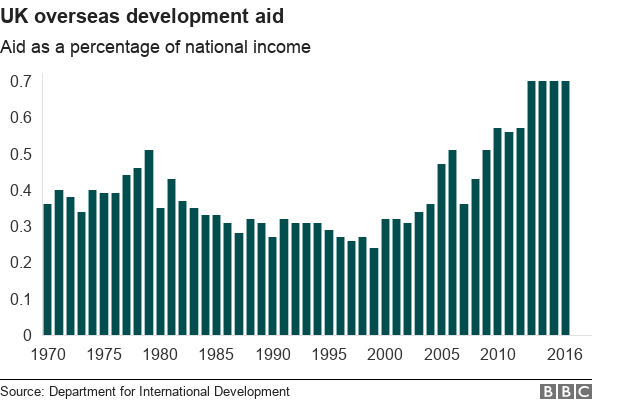 Some newspapers have again questioned the amount spent on overseas aid by the UK after allegations of sexual misconduct by aid workers.
International aid summits since the 1970s have been urging countries to spend 0.7% of their national income on overseas development assistance (ODA), popularly known as foreign aid.
The UK government first did so in 2013, and approved legislation requiring it to do so in 2015.
In 2016, that translated to a total spend of £13.4bn, according to the Department for International Development.
Some of that money went to charities.
Oxfam received £31.7m from the UK government, which is about a quarter of a percent of what the government spends on foreign aid each year.
But it is a sizeable chunk of Oxfam's funding.
The charity had a total income of £409m last year, of which £176m came from government and other public authorities.
Of the rest, £108m came from donations and legacies and £91m from sales in its shops.
Its total income put it at number four on the list of UK charities, behind Cancer Research, the British Heart Foundation and Macmillan Cancer Support, according to the 2017 Top 100 Charities Fundraising Spotlight.
Sharing out the aid
About 64% of UK foreign aid is bilateral aid, which is sent directly to the countries involved.
Last year, the top three recipients were Pakistan, Syria and Ethiopia.
The remaining 36% is multilateral aid, which is distributed by international organisations including charities.
The top recipient of UK multilateral aid is the International Development Association, which is part of the World Bank.
It received £1.1bn from the UK last year.
The second item in the graph above was the part of the UK's contribution to the EU budget that may be counted as development aid.
The EU spends that money on humanitarian aid and on emergency responses to world crises, as well as on projects in countries close to the EU and those hoping to join in the future.
Oxfam's £31.7m puts it just outside the top 20 recipients of multilateral aid.