Milan kidnap case model Chloe Ayling: People don't believe me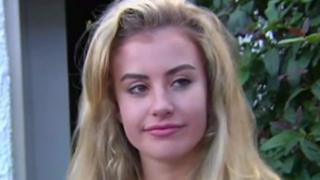 Model Chloe Ayling has told her lawyer she is saddened that many people do not believe she was kidnapped in Italy last summer, as a trial begins in Milan.
Lucasz Herba, 30, is accused of luring the 20-year-old from south London to Milan with the promise of a photoshoot, and then kidnapping her for a ransom.
Ms Ayling's lawyer, Francesco Pesce, told the BBC his client had been terrorised and threatened with death.
Mr Herba argues that Ms Ayling was a willing participant in her abduction.
On the first day of the trial on Wednesday, a police officer told the Milan court that Ms Ayling had been drugged, handcuffed and transported in a suitcase.
He said she had suffered mental and physical abuse during the six-day ordeal last July.
Speaking to the BBC, Mr Pesce said Ms Ayling would not give evidence in court because she did not want to see her alleged kidnapper's face again.
He said she had been interrogated for almost 13 hours last August and her request not to return to Italy for the trial had been granted.
"She's had enough," he said, adding that she was currently "putting herself back together" and had returned to modelling.
"She is saddened by the fact that many people don't believe her story. But she is strong and she will carry on," he said.
'Psychological terrorism'
Asked about a video which emerged of Ms Ayling and Mr Herba holding hands, Mr Pesce said: "There is nothing to defend.
"She doesn't appear to be happy or smiley - she acts like a hostage.
"She was being terrorised by this man, who kidnapped her and took her to a place in the middle of nowhere. It was psychological terrorism."
Mr Pesce said Ms Ayling's alleged kidnapper threatened to kill her if she tried anything so she "played the friendship card".
"She wanted to stay on his good side - as the alternative was to die," he said.
"She thought this was her only hope... and it worked."
Mr Pesce said Mr Herba seemed to have a "change of heart" when he discovered Ms Ayling was a mother, and told her he would free her.
If convicted, Mr Herba, from Poland, faces up to 25 years in prison for abduction.
The trial continues.