Women 'shunning facial plastic surgery for flattering photo filters'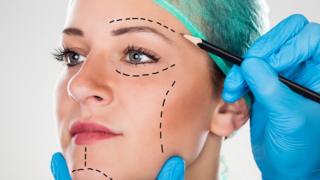 Women are shunning facial cosmetic surgery in favour of flattering photo filters, plastic surgeons have claimed.
Research from the British Association of Aesthetic Plastic Surgeons (BAAPS) suggests filter tools on social media apps mean many people "no longer see the need" for facial procedures.
However, data for 2017 showed procedures for the body increased, for areas that "filters cannot reach".
For men it was the opposite - there was a preference for facial treatment.
The annual statistics from BAAPS found there were 28,315 cosmetic surgical procedures in 2017 - a fall of nearly 8% compared with the previous year.
Only 9% of all procedures were carried out on men but fewer of them went under the knife to change their body - although the number of male patients undergoing eyelid and brow lifts rose by over a quarter.
The opposite trend was noticed among women, with the number of female facelifts dropping by 44%.
Procedures including breast augmentation or reduction and tummy tucks all rose in 2017.
The role of social media
BAAPS said the theory behind the shift in women's surgery trends was because "there is such a range of filters for faces that women do not see the need for facial procedures".
Many social media apps, such as Instagram and Snapchat, offer users the option to add features to their camera photos, including making their eyes appear bigger and more attractive.
Consultant plastic surgeon and former BAAPS president Rajiv Grover said: "The advent of myriad filters in social media platforms allows for the ubiquitous enhancing and facial feminising of 'selfies'.
"However there are fewer options to reach online 'fitspiration' when it comes to body goals"
He added: "It is possible that fashion may also play a part; for example the growing trend of activewear such as yoga pants and Lycra leggings being worn in everyday life, perhaps demanding a more toned shape.
"Both of these factors may potentially be the reasons why women's focus for cosmetic surgery in 2017 has shifted from their face to their body in order to address the stubborn areas that neither diet, exercise, nor filters can reach."
'Hyper-critical'
But Jo Hemmings, a psychologist who works with cosmetic surgery company the Harley Medical Group, said using flattering photo filters can lead some people to seek permanent surgical changes to their face and body.
She said the rise of the "selfie" has made many people more critical of their self-image and has "undoubtedly" caused a rise in anxiety disorders like body or facial dysmorphia.
"When we look in a mirror, our brains 'adjust' to the image that we are seeing," Ms Hemmings said.
"Our perception allows us to see ourselves in a thoughtful, realistic and considered way which may make us pleased with what we see or perhaps resolve to lose a bit of weight, put some make-up on or encourage us to us decide whether we might need some cosmetic help.
"The same adjustment of perception can't happen with a static photograph and so we become more hyper-critical of the way that we look.
"Whether we are aware of it or not, this puts pressure on ourselves to be selfie-perfect."
She added: "For some this is simply a case of using a filter or an image-adjusting app on their smart phones before posting it, but for others it instils a crisis of confidence and a real desire to make more substantial alternations to their face or body, often above and beyond any procedures that could be considered to help them feel better about themselves."