Barry Bennell trial: Jurors must put 'revulsion' aside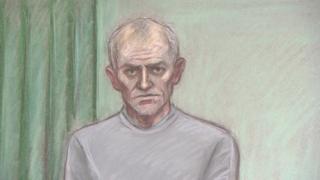 Jurors in the trial of ex-football coach Barry Bennell have been urged to put aside their "revulsion" as they consider their verdicts.
Defence barrister Eleanor Laws QC said that Mr Bennell became a "sitting target" after he admitted child sex offences in the 1990s.
The 64-year-old denies sexually abusing 11 boys between 1979 and 1990.
The jury at Liverpool Crown Court has been asked to return not guilty verdicts on three of 48 counts.
In her closing speech, Ms Laws said that Mr Bennell must be given a fair trial despite his status as a convicted paedophile.
She said: "The defendant is a known target and he coached these boys. They know when making allegations, whether truthful or not, that they are making allegations against a convicted paedophile."
Verdict 'without emotion'
Ms Laws detailed compensation claims made by some of the complainants against Mr Bennell.
She said that there had been publicity about his guilty pleas to offences in the 1990s, and a documentary was aired about him in 1997.
"We would say you can be sure there is no detail that any of the witnesses give that could only have come about or come to light as a result of being abused by Barry Bennell," she said.
Judge Clement Goldstone QC urged the jury to reach its decision "without emotion".
He will continue his summing up on Wednesday before the jury of five men and seven women retires to consider its verdict.