100 years on: Suffragette tributes shared online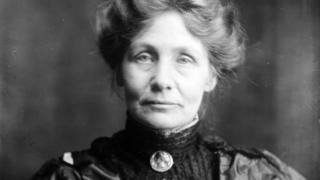 A century after women first won the right to vote in the UK, politicians, activists and social media users have paid tribute to the women who helped to force a change in the law.
The hashtag #100Years is trending worldwide, used more than 40,000 times on Twitter.
Some social media users celebrated the contribution of women who campaigned for the right to vote.
Others marked the occasion by highlighting work still to be done.
Who are people talking about?
The names of several prominent suffrage campaigners have been trending.
BBC Radio 4 listeners voted Suffragist Dame Millicent Fawcett as the 'most influential' woman of the past 100 years, but Suffragette Emmeline Pankhurst has been mentioned almost 3,000 times on Twitter in the past 24 hours.
Suffragettes and Suffragists both campaigned for a change in the law which would grant women the right to vote, but favoured different methods.
Tributes to other campaigners, including Sylvia and Christabel Pankhurst, and Emily Davison, a Suffragette who died when she ran in front of the King's horse during the 1913 Epsom Derby, have also been made by thousands.
What are women in politics saying?
Labour MP for Birmingham Yardley Jess Phillips was among scores of politicians from all parties to mark the centenary online.
The Prime Minister shared a picture of female MPs gathered in Parliament.
"I'm proud that there are over 200 female MPS," she wrote. "Our democracy is stronger as a result."
Arlene Foster, leader of the DUP, the largest party in the Northern Ireland Assembly, and Nicola Sturgeon, the SNP First Minister of Scotland, also paid tribute to Suffragist and Suffragette campaigners.
Prominent individuals outside of politics have also marked the anniversary.
Sir Paul McCartney referenced his Wings song Jet in congratulating "all of us on the 100th anniversary of the Suffragette movement".
More to be done?
Many people marked the centenary by highlighting progress they say has yet be made.
Channel 4 News presenter, Cathy Newman, pointed out "fewer than one third of MPs are female" and "all chancellors to date have been men," adding, "history still needs to be made".
Referencing the exclusion of some women from enfranchisement in 1918, novelist and broadcaster Bonnie Greer said political life for a woman is still "different, harder, less rewarding, more dangerous than it is for a man".
The Jo Cox Foundation, a charity set up after Ms Cox's murder in 2016, shared pictures of the former MP as a 14-year-old visiting Downing Street on a school trip.
By UGC and Social News team