Prof Robert Winston accused of 'shaming' loud passenger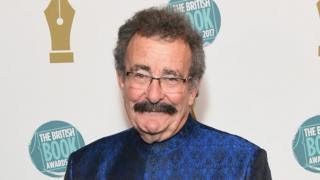 Prof Robert Winston has drawn criticism on social media after he tweeted a series of photographs of a woman he said was speaking loudly near him on a train.
While some online expressed their similar annoyance at poor behaviour on public transport, others accused Prof Winston of "bullying" and "shaming" the woman, and raised issues over passenger privacy.
The since-deleted images showed the woman having a conversation on her phone during a journey from London to Manchester.
So-called stranger-shaming - or otherwise sharing covert photographs of strangers - is a long-standing issue on social media.
Manspreading, students sleeping at the library, men wearing red trousers and napping commuters have all been the target of ridicule and undercover photography.
The phenomenon has ranged from Facebook pages mocking women eating on trains, to blogs asking people to upload pictures of strangers on the Tube and rate their attractiveness.
However, Prof Winston's tweets have also prompted many people to share their examples of perceived bad etiquette on public transport.
You may also like:
On Thursday, Prof Winston tweeted: "This woman has been on this phonecall for 30 minutes in a crowded carriage. We are not interested in her conversation."
Updating his 40,000 followers, the Labour peer and human fertility expert continued: "She's now been on phone 40 minutes and having worn out one ear is now using the other one.
"It's now 60 minutes - she has a child with her. Why not talk to her child?"
Many online shared Prof Winston's annoyance, and bemoaned being subjected to other people's conversations.
Others responded with criticisms of other irritating behaviours on public transport.
However, concerns were raised over Prof Winston's choice to share photographs of the woman.
One social media user suggested sharing photographs of the woman was "humiliating", while others accused the professor of being a bully.
Another accused Prof Winston of "shaming" the woman by posting her photograph without her knowledge.
Responding to the criticism of his tweets, Prof Winston expressed his remorse at posting the photographs, but insisted "invasion of privacy can be a two way invasion".
'Stranger-shaming'
Journalist Sophie Wilkinson found a photograph of herself eating a snack on the London Underground on the Facebook page Women Who Eat on Tubes, which invites the public to submit images of women eating on various subway systems around the world.
Ms Wilkinson says she felt "embarrassed" and "angry" when she discovered that someone had surreptitiously taken and shared a photograph of her without her consent.
While the account claims its purpose is "observational not judgemental," feminist groups have protested against the page.
Many stranger-shaming accounts are focused on behaviour on public transport, when people are forced into close quarters.
For example, the Instagram account Passenger Shaming has more than 600,000 followers and documents the faux pas of airline travellers.
The account, set up by a former flight attendant, posts images and videos of many unsuspecting passengers.
Likewise, a website which encourages people to upload pictures of strangers and rate how attractive they are has been called "intrusive and creepy".
By George Pierpoint, BBC UGC and Social News