Finsbury Park mosque attack: Defendant 'not on trial for views'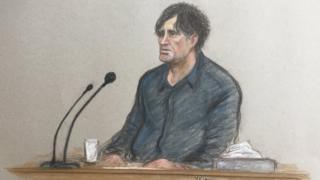 The judge in the trial of a man accused of driving a van into a group of people outside a London mosque has told the jury he is not on trial for his views.
Mrs Justice Cheema-Grubb was summing up evidence heard during the first eight days of the trial of Darren Osborne.
Prosecutors said Mr Osborne had become "obsessed" with Muslims and had intended to kill as many as possible.
He denies murder and attempted murder, saying a friend called Dave was driving when people in Finsbury Park were hit.
Makram Ali, 51, from Haringey, was killed after leaving a prayer meeting at Muslim Welfare House in June and nine other people were injured.
Mr Osborne said he hired the van to kill Labour leader Jeremy Corbyn on a march he was due to attend.
The 48-year-old, from Cardiff, told the court he was alone in the van as he drove towards the march - but that "road blocks" in central London had "thwarted their plans".
'No plan B'
Closing the defence, Lisa Wilding QC said Mr Osborne accepted many of the arguments made by the prosecution, as well as the views he holds, but she said that did not make him guilty of the charges.
She said: "You may describe his views as abhorrent, but why would a man so intent on killing… to proclaim his cause and give his views, why would he deny doing the very thing he set out to do if, in fact, he did do it?"
Ms Wilding said his plan was over after he could not get to the march and there was no "plan B".
She added: "You may think that Darren Osborne doesn't know his own mind, so how can you?"
Speaking to the jury after both the prosecution and defence had made their closing arguments, Mrs Justice Cheema-Grubb said the defendant was not on trial for his views, but for whether they had led him to commit the offence he was charged with.
She said: "Every ordinary decent person hates child abuse and acts of terror. That sort of feeling is very different from hatred to those who follow a religion because a small proportion of them commit terror.
"There is no defence of being in the grip of moral justification or outrage."
But the judge added: "His defence is he was not the driver, if you are not sure he was, he must be acquitted."
The jury has now been sent out to consider their verdict.
Mr Osborne denies the murder of Mr Ali and the attempted murder of "persons at the junction of Seven Sisters Road and Whadcoat Street, London".