Which sports still use 'walk-on girls'?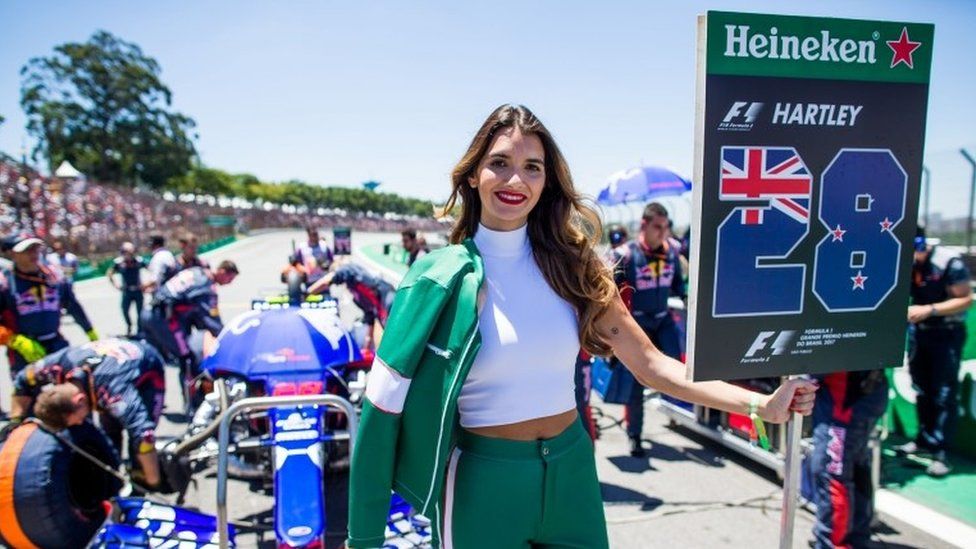 The decision marked the end of the decades-old practice of employing often scantily-clad women for promotional tasks - like holding umbrellas and driver name boards before each race.
Grid girl Charlotte Gash told BBC Radio 5 live she was upset and "rather disgusted" that F1 had "given in to the minority to be politically correct".
And Charlotte Wood, a walk-on girl at darts matches said her "rights are being taken away" and that working at such events accounted for 60% of her income.
But for some the move is just the tip of the iceberg.
The Women's Sport Trust is encouraging other sports to follow suit and stop positioning women "as an embellishment".
So which other main sports are under the spotlight?
If you have ever watched a professional boxing match, you will probably have seen a woman - usually wearing a revealing outfit - walking around the ring between rounds.
The job of a "ring girl" is to let the crowd know which round is coming up by holding up numbered cards.
They have been considered part of the glamour of fight promotion since the 1960s.
Leading promoter Eddie Hearn, whose fighters include WBA heavyweight world champion Anthony Joshua, has no intention of following the trend by removing ring-card girls from his shows.
He told GQ magazine: "From a boxing point of view, we want to keep the traditions of the sport going and in my opinion it has nothing to do with sexism or feminism."
He added that in darts "walk-on girls aren't really doing anything", whereas the boxing ring card girls "serve a purpose".
But British professional boxer Stacey Copeland says the practice is "inappropriate" in a sporting arena. She uses children as mascots at her fights instead of ring girls.
The Stockport-born fighter told BBC 5 live: "Just because it's always been that way in darts, Formula 1 and boxing, it doesn't necessarily make it right."
I have kids as mascots instead of ring card girls when I box. I hope that one day it'll seem crazy that we ever had ring card girls at all! https://t.co/5mfs1eVaT9

— Stacey Copeland (@scopelandboxer) January 28, 2018
"I'm not a snob, I'm not prudish, I don't look down on anyone that does those roles... but as a sportswoman trying to gain respect and push things forward for women in sport - (ring girls) are an issue."
This is because, Ms Copeland adds, "their role is only to do with how they look - I don't think that's the most positive representation of women in sport".
"In football we're very used to seeing child mascots. I think if we were to replace all of those children with women just standing there in dresses for no apparent reason, it would seem odd."
Another sport that traditionally uses women in promotional roles is cycling - where they are called podium hostesses.
The debate over their future surfaced after Slovak cyclist Peter Sagan was pictured pinching the bottom of a podium girl after a race in 2013.
The sport was then heavily criticised two years later when bikini-clad women flanked cyclists on the podium at the Flanders Diamond Tour in Belgium, forcing organisers to apologise.
Journalist and former cyclist Marijn de Vries told the BBC she would like to see an end to podium girls in the sport.
Her preference would be for podium kids to play a part in the presentations: "How cool is it to give flowers to your big hero?"
However, she added that, in some cases, the women on the podium were not just there to present flowers but had an important role as hostess of the event.
She said: "At the end of the day you need people who organise the side programme, and if they hand the flowers at the end of the race, I don't mind."
Some competitions have taken a stand against it, with the Tour Down Under deciding to scrap the use of podium girls last year, using junior cyclists in their place.
"Hostesses are surplus to requirements on the podium; it is like treating them as mere objects," Spanish cyclist Mikel Landa of Team Sky told Spain's El Correo newspaper.
But they remain in the sport's blue ribbon event, the Tour de France.
Laura Weislo, Cycling News deputy editor, argues that until women have equal status in the sport, the hostesses should either be dropped - or men should be used as well.
She told BBC Radio 4: "You need somebody to present the prizes and it should be professional, and it should look good. It has to be pretty for the cameras, but men can be beautiful too.
"The whole podium kissing on the cheek thing I think is just a little bit weird, and it just brings this element of sexualisation of the ceremony into it that I don't think is necessary."
Ring-card girls, unique to combat sports, also feature heavily in mixed martial arts (MMA).
Ultimate Fighting Championship (UFC), the dominant MMA promoter worldwide, returns to London's O2 Arena in March for the 10th time and will bring its version of ring girls - known as octagon girls.
UFC's website has pictures of some of the octagon girls from around the globe, one description accompanying a photo reads, "the long black hair, charming smile and curves of Camila Oliveira are jaw dropping".
The Women's Sport Trust says the problem with using models alongside sport is "the message it gives about how women are valued in society".
"Sporting viewers are expected to admire the successful, talented, strong men taking part in competition, with the role of women purely based on their physical appearance."
Its statement added: "Sport mirrors and magnifies society. If we depict women in sport in a way that reinforces a narrow stereotype, we add to the pressure young girls in particular feel to look and act a certain way."
British freelance sportswriter Leigh Copson is a keen UFC follower, along with his 10-year-old daughter, who has been inspired by the female fighters rather than the women parading outside the ring.
He said: "Women have been much more than eye candy in MMA for a while now - (former mixed martial artist) Ronda Rousey's the reason my little girl does karate and kickboxing.
"Ring-card girls have been a tradition of fighting sports for a long time but I don't think they add anything to the presentation and I wouldn't miss them in the slightest if they were removed."
UFC said it did not wish to comment on whether it would be reconsidering the use of octagon girls.
Although far more prevalent in the US, cheerleaders do make appearances in UK sport including football, rugby and cricket.
Zoe Rutherford, managing director of The London Cheerleaders, says cheerleading is often misunderstood: "It's a real shame that it is linked with the idea of shaking pom poms and looking pretty.
"My dancers are athletes in their own right - they are incredibly strong and flexible and deliver performances of high calibre."
Crystal Palace Football Club has released a statement in defence of its own cheerleading squad, the Crystals.
A spokeswoman said, in addition to raising money for good causes, the cheerleaders contributed to the "unique atmosphere inside the stadium".
She added that the club had never received a complaint about the Crystals.