Child refugees who fled Nazis plead for UK to take in more migrants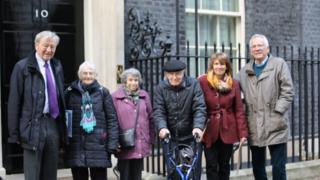 Five former child refugees who fled Nazi persecution have urged Theresa May to welcome more young migrants into Britain.
The group of men and women, who came to the UK from Europe prior to the outbreak of World War Two, delivered a letter to Downing Street on Tuesday.
They were among 10,000 mostly Jewish children who escaped to Britain in 1938 and 1939 in a process that became known as Kindertransport.
Many of the children would never see their families again.
To mark the 80th anniversary of the first Kindertransport trains arriving in the UK, the group of ex-refugees have signed a letter petitioning the government to take in more children.
Joined by Labour peer Lord Alf Dubs and Barbara Winton, the daughter of Kindertransport organiser Sir Nicholas Winton, the group wants more refugees welcomed into the UK under the Dubs scheme.
The Home Office said last year Britain helped more than 9,000 children by granting asylum or another form of leave.
Haunting memories
Benjamin Abeles, 92, was a teenager in Nazi-occupied Prague when he was sent by his parents on the Kindertransport in 1939.
"It was a great adventure," he said. "I was just 14. I was a great fan of football and Britain was the best in football in the world so what else could a 14-year-old want?
"I still remember my father walking me around the platform in Prague and lecturing me on how I should be honest and work hard and clean my teeth and all this kind of stuff.
"But my mind was already on the train."
After the war, Mr Abeles learnt his parents and older sister had been killed in the Holocaust.
He said: "I remember my mother when the train was pulling out and she was biting her lip in order to suppress her tears.
"That has been haunting me. I felt guilty, sometimes I have this survivor's guilt."
He added his journey to Downing Street reminded him of his mother's journey to the office of Kindertransport in Prague in 1939.
"I felt this was similar to what I was doing now. I was going to Downing Street and pleading for a child," he said.
He added: "They are just children. They are not responsible for what country they come from. I want them to have this opportunity."
Settling in
Eve Leadbeater, 86, was eight when she left her entire family and travelled unaccompanied to London on the Kindertransport.
She was placed with her foster mother, a primary school teacher in Nottinghamshire.
Her family, including her brother who was due to catch a separate Kindertransport train in several months, were later killed in Nazi concentration camps.
Ms Leadbeater said: "I remember settling in very quickly. I was very adaptable. By Christmas I had lost my Czech and was fluent in English.
"The refugees today not only remind me of myself, it makes me compare attitudes in 1939 and attitudes now."
"I think there is less compassion about now. I think people do seem to resent refugees and immigrants and forget what they have been through and that was not so in 1939."
'A strong moral case'
Barbara Winton, whose father rescued 669 children as part of the Kindertransport mission, says she notices similarities in the reactions to the migrant crises in 1938 and today.
British stockbroker Sir Nicholas Winton, who died in 2015 aged 106, became known as the "British Schindler" after Oskar Schindler, the German industrialist credited with having saved the lives of 1,200 Jews and whose story was made into the film Schindler's List.
"We look back on our history to think how noble we were to save these children," Ms Winton said.
"It was fantastic - we were the only country to do it on that large scale.
"But the nation was not wholeheartedly in agreement. The newspaper headlines were pretty virulent."
She added: "I feel very upset about the discourse on the topic in the media and on social media and the language to talk about refugees.
"The similarities are, do you go out of your way and put yourselves out to help people?
"In a sense you don't owe help but there is a moral case. It's certainly what I feel and what my father felt."
Lord Alf Dubs, who gave his support to the letter delivered to Parliament, said: "We have got to keep giving this a profile.
"If the attention goes away from this now, nothing will happen."
The Labour peer introduced the Dubs amendment which came into force in 2016. In March last year, the Home Office said it would be taking 480 children via the scheme.
Lord Dubs and the other refugees now want the scheme, which allowed a number of unaccompanied children to come to live in the UK even if they did not have a straightforward family link, to rethink that limit.
A spokeswoman for the government said: "The UK has a proud history of hosting, supporting and protecting those in need, including some of the most vulnerable children affected by the migration crisis.
"Britain currently leads the EU in resettling refugees, and last year the UK granted asylum or another form of leave to over 9,000 children and more than 49,000 children since 2010.
"We are fully committed to transferring 480 unaccompanied children under the Section 67 of the Immigration Act and transfers are ongoing.
"The UK plays an important role in the world-wide effort to tackle the migration crisis.
"We have given hundreds of millions in aid and are resettling children and vulnerable people from refugee camps in countries closest to Syria to ensure those most in need get the right help, without encouraging people to make the incredibly dangerous journey across the Mediterranean."