Fox urges Tories to focus on the 'big picture'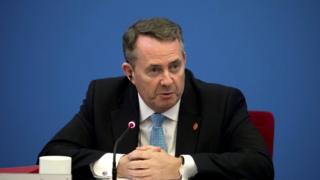 International Trade Secretary Liam Fox is in China and wants his restive colleagues at home to focus on the big picture.
Listing the number of deals that have been done already this week during the prime minister's visit he told me that building levels of trade with China is a real "success story".
No 10 is confident that by the end of this marathon trip well over £9bn of new contracts will have been secured - such a high profile political investment edging deals over the line.
Mr Fox accepts it will take some to get trade deals done in the longer term. The UK will be limited not just before Brexit, but also during the transition period, in how much can get done.
But for him this is a vital time, working to dismantle existing barriers to doing business and preparing for bigger deals, whether "gold standard", or not, that can be concluded over time.
And while to some ears, it might sound ironic for a senior Tory politician to be making such a request, he suggested that Britain needed to get over its obsession with Europe.
And as for his bickering colleagues, they needed to get over their focus on what's happening in Westminster.
Dr Fox told me: "I sometimes wish that first of all people could see the prime minister the way that she's seen in other countries in terms of the vision that she's put forward for Britain.
"Secondly I wish they could see Britain in the way that the rest of the world sees us and not the some of the internal commentators in the UK."
Many Tory MPs would agree with Dr Fox that focusing on internal manoeuvres hinders the Tory cause.
But it is almost impossible for a politician to create completely different personas at home and abroad.
That's not withstanding the Chinese state TV reporting that the prime minister is supposedly becoming affectionately known as Auntie May.
Whether it's Beijing, Brussels or back home, it's hard for Theresa May to hide from the doubts.