Duke and duchess high-five children on Sweden tour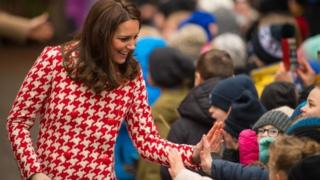 The Duke and Duchess of Cambridge have greeted young well-wishers with high-fives and smiles on a walkabout on the second day of their Swedish tour.
William and Kate, who is pregnant with their third child, met school students and visited academics at Stockholm's Karolinska Institute to learn about mental health challenges in Sweden.
In the evening, the royals will meet Swedish stars from the big screen, the arts, sport and TV at a reception.
The couple head to Norway on Thursday.
Their hosts for the two-day tour of Sweden are Crown Princess Victoria and Prince Daniel, who gave them a warm welcome with kisses on both cheeks before accompanying them to a department store to open an interactive exhibition of UK design, fashion and brands that operate in Sweden.
They also joined them at a secondary school to meet children who have taken part in a mental health programme to raise youth awareness.
The initiative, aimed at 14 to 16-year-olds, teaches them about key issues through discussion and role-playing, and now operates internationally including in the UK.
Mental health issues are a central theme in the royal couple's campaign work.
Analysis
By Nicholas Witchell, royal correspondent
William and Catherine are visiting Sweden and Norway at the request of the British Foreign Office.
It is the latest instalment in the deployment of the royal family to sweeten relations with those all-important European friends and allies.
It's a role to which the royals are suited.
In 2016, the duke and duchess, together with Prince Harry, set up a project called Heads Together to try to end the stigmatising of people trying to cope.
On Tuesday, the couple learned about the game of bandy hockey before lunch at the country's royal palace hosted by the king, Carl XVI Gustaf.