Wedding speech dilemma: Time to hear from the bride?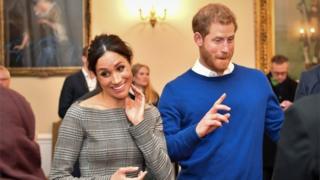 Come May, Meghan Markle is reportedly planning to break with the tradition for royal brides by making a speech at her own wedding reception.
In the 21st century it shouldn't really be a surprise to hear a woman speaking at her own wedding.
Journalist Sarah Ebner points out that she did this back in 1996.
Some traditions seem hard to break, however.
A YouGov poll from 2016 found that only 16% of those surveyed thought the bride should give a speech at her wedding.
Donna Brown, from Pure Elegance Weddings & Events, estimates that - of the 70 weddings she helped plan in 2017 - only a dozen heard from the bride.
She recalls one bridesmaid who was desperate to speak but the bride was unsure whether it was the right thing to do.
"You can bear in mind what etiquette says," advises Donna, "but at the end of the day this is your wedding.
"It is not a Pinterest wedding. Stop striving for something you think you must have."
Sarah Haywood, wedding planner and author of the Wedding Bible, says around half of the weddings she plans now include a speech from the bride.
And Brides editor Jade Beer believes there is "a growing feeling" among young women who "don't want to let all the men speak for them on their wedding day".
The fact that a speech from the bride isn't traditional gives women more freedom in what they can say, according to wedding event manager Annabel Candler.
She says that best men or fathers of the bride invariably Google to find out the essentials of what should be in their speech - but brides have no blueprint to follow.
And according to Annabel that is an advantage: "They are standing up because they have something to say that no-one else has."
So, with that freedom, how should Meghan Markle approach her speech, what are the pitfalls, and are jokes a bad idea?
"Don't steal the show," advises wedding speech expert Carole Spiers.
She says that, as an actress, Ms Markle could very easily become the star but warns that "going too Hollywood" won't work for the royal family at all.
Pleasing the monarch and various members of the aristocracy will not be the first thing on most brides' minds.
Nerves?
Dealing with nerves is more likely to be an issue but wedding blogger Alison Tinlin says that a wedding speech is easier than normal public speaking because "you get a burst of adrenaline".
Sarah Haywood agrees and advises brides to rely on the watching guests to help cure a bride of any anxiety.
"You are looking out at a room full of people who know you and care about you. It is not as scary when you're seeing those faces."
In addition to having a friendly audience, Donna Brown from Pure Elegance Weddings & Events points out that the bride will be looking her best "which gives you that extra bit of confidence".
For Carole Spiers the key is practice. She says brides should memorise the first two minutes: "Knowing what your opener will be gives you the confidence to open your mouth."
Should Meghan Markle include some humour in her speech?
As editor of Brides magazine, Jade Beer has seen her fair share of weddings and retains clear memories of the most memorable bridal speech she has sat through.
She says: "I once watched a bride use her wedding speech to compare every member of her wedding party to a different Quality Street chocolate and it was excruciating.
"Don't go for belly laughs unless you can really pull it off," she warns.
Carole Spiers says light humour can work but jokes are a risk: "You can deliver it badly or the timing can be off."
"Unless you're a comedian, you don't need the stress."
And smutty jokes are best avoided.
'Leave them wanting more'
A common piece of advice is to keep any speech brief.
Sarah Haywood says anything from five to 10 minutes is ideal: "The best speeches leave you wanting more."
Even if you only speak for five minutes don't just recite "a long list of thank-yous," says Jade Beer.
"It is boring and everyone will switch off."
Nick Gold, from the consultancy and booking service Speakers Corner, adds a dose of reality and says "Most people are just waiting to sip champagne in the honour of the happy couple.
"Anything more than 20 minutes and you'll find yourself toasting a sigh of relief."