People trafficking case collapses over disclosure failings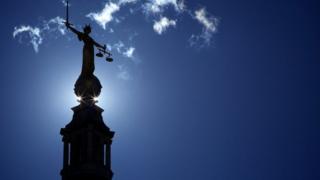 A judge has ordered the Crown Prosecution Service to explain itself in a case that collapsed because social media evidence was not disclosed.
The trial of three people held on trafficking and prostitution charges was stopped after the material cast doubt on the complainant's story.
Judge Perrins said the failure to disclose material earlier "would appear to be as a result of incompetence".
The CPS said it was "concerned" by the outcome and would review the case.
The trial of Adrian Iordan, Anisoara Lautaru, Petruta-Cristina Bosoanca was stopped after the complainant in the case had been cross-examined.
The defendants were charged with people trafficking under the Modern Slavery Act and controlling prostitution charges under the Sexual Offences Act.
They were accused of conspiring to traffic a young woman to the UK from Romania for the purpose of prostitution.
One defendant, Ms Bosoanca, gave birth during her 13 months in custody.
Analysis
By Clive Coleman, BBC legal correspondent
This case could not illustrate more dramatically the devastating effect on people's lives that can result from a failure on the part of police and prosecutors to disclose evidence to the defence which can assist the defence.
Cristina Bosoanca has spent more than 13 months in prison, during which time she has given birth, when she should never have been there in the first place.
Her case also provides evidence that disclosure failures are not limited to rape and that there is, as lawyers in the criminal justice system have been telling me for years, a systemic problem with disclosure.
At its heart is a seeming inability by police and prosecutors to recognise the extent to which valuable evidence is to be found where people now live their lives - online, on mobile phones and on social media.
Searching these areas comprehensively for critical evidence is perhaps the criminal justice system's biggest challenge.
In a ruling at London's Wood Green Crown Court, Judge Perrins said: "It would also appear as though the court has been significantly misled as to the prosecution's state of readiness as well as the strength of the evidence at previous bail hearings as well as applications to extend the custody time limits.
"The fact that one defendant has had to give birth in custody and her baby is currently in prison with her makes this all the more shocking."
He demanded the CPS attend court on Wednesday to explain its failures in the case.
The BBC understands that relevant social media material was known to the police from January 2017 but wasn't disclosed until December 2017.
A CPS spokesman said: "We are concerned by the outcome of the case and the comments of the judge today.
"It is clear there have been failings in this case, and it is being reviewed by senior CPS lawyers as a matter of urgency."