Theresa May to meet Donald Trump in Davos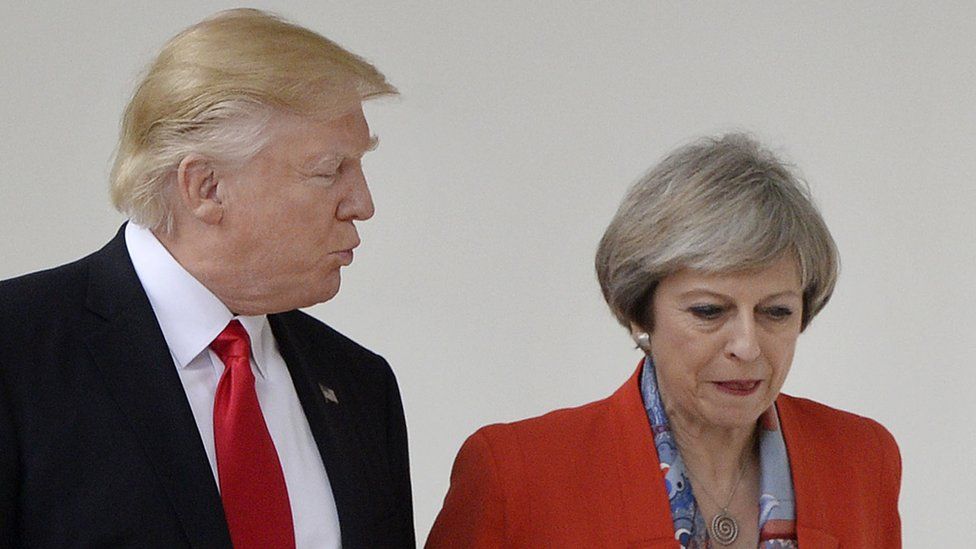 Prime Minister Theresa May and President Donald Trump will meet at the World Economic Forum in Davos next week, Downing Street has confirmed.
The White House said Mr Trump "looks forward" to strengthening the countries' "special relationship".
Mr Trump is the first sitting US president to attend the forum in the Swiss city since Bill Clinton in 2000.
A Downing Street spokesman said the "bilateral meeting" would take place "in the margins" of the forum.
However, in November, the prime minister criticised Mr Trump for retweeting three inflammatory videos posted online by the far-right group, Britain First.
After Mrs May's spokesman said it was "wrong for the president to have done this", he hit back on Twitter and told the British leader to not "focus on me, focus on the destructive radical Islamic terrorism that is taking place within the United Kingdom".
.@Theresa_May, don't focus on me, focus on the destructive Radical Islamic Terrorism that is taking place within the United Kingdom. We are doing just fine!

— Donald J. Trump (@realDonaldTrump) November 30, 2017
Mrs May more recently discussed Brexit and events in the Middle East in a pre-Christmas phone call with Mr Trump.
Earlier this month Mr Trump said on Twitter the reason why he was not going to cut the ribbon on the the new US embassy in Vauxhall, south London, was because he did not agree with the move from its old home in Mayfair.
However, Mayor of London Sadiq Khan - who has clashed with the president in the past - said Mr Trump had "got the message" that many Londoners were staunchly opposed to his policies and actions.
The reason given for moving the US embassy to Vauxhall was that the current building in Mayfair was too small and modern security was needed.