Asda and Aldi stop energy drink sales to under-16s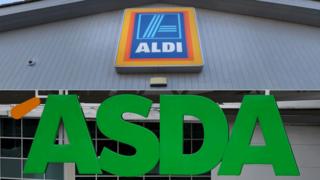 Asda and Aldi are to ban the sale of energy drinks to children under 16 from early March.
The move comes after Waitrose announced that customers buying drinks after 5 March could be asked to show ID.
Asda has become the first of the "big four" supermarkets to announce an age limit, which will apply to 84 high-caffeine drinks, also from 5 March.
Aldi will apply it to soft drinks containing 150mg of caffeine per litre from 1 March.
The move follows calls by campaigners for a complete ban on energy drinks, and it comes weeks after MP Maria Caulfield asked Prime Minister Theresa May to consider a UK-wide ban.
Both retailers cited the growing concerns about the effect of energy drinks on young people as a key motive in introducing the ban.
Oliver King, Aldi's managing director of corporate responsibility, said: "We are introducing this age restriction in response to growing concern about the consumption of energy drinks among young people."
Asda's chief customer officer Andrew Murray said the retailer was working hard to "ensure we get the balance right between offering choice and doing the right thing".
He added: "We have listened to our customers and want to take a leading position in this area to support parents and teachers in limiting young people's access to high caffeine drinks."
Pupil behaviour
The NASUWT teaching union, which called for schools to ban energy drinks from their premises in December 2017, said they were pleased with Asda and Aldi's decision.
General secretary Chris Keates said: "We hope this will continue the momentum for our campaign to see concerted action to regulate sales [of energy drinks]."
She added: "The very high levels of caffeine and sugar these drinks contain impact adversely on pupil behaviour in schools and teachers are left to deal with the fallout.
"There is a chronic lack of awareness about the effects and long-term health impacts of these drinks which many pupils and parents think are just another soft drink."
Celebrity chef Jamie Oliver is also among those who have campaigned for age restrictions to prevent young children drinking energy drinks excessively.
He responded enthusiastically to Asda and Aldi's decisions, saying they "have done the right thing" and urging other supermarkets to follow.