'The greatest gift': How I became a surrogate
By Marie Jackson
BBC News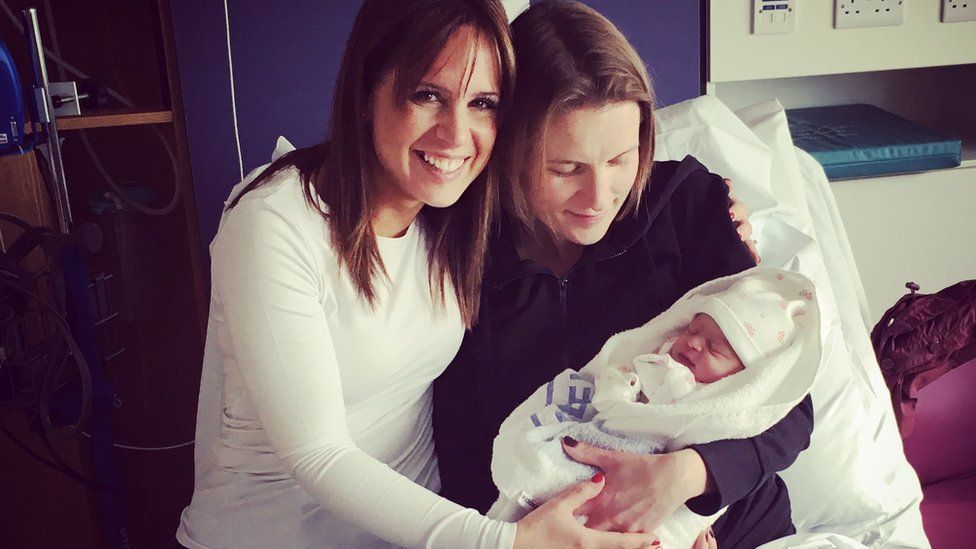 Reality TV star Kim Kardashian West and her husband Kanye West have announced the birth of their third child - a baby girl delivered by a surrogate. Her surrogate had made their "dreams come true with the greatest gift one could give", she said.
One woman who knows exactly what it is like to give that gift is Laura Mott, a 31-year-old from Essex, who acted as a surrogate mum last year.
On 5 February, she gave birth to a 6lb 14 oz baby girl. Moments later, the baby was in the arms of her intended mother, Melissa.
By the end of the day, Laura was back home having a Chinese takeaway, a bath and then bed - without baby.
"It was so emotional," says Laura. "Joy for them and for me. They had completed their family and I had succeeded in doing something I'd always dreamed of."
Laura - who has two daughters, aged seven and three and is pregnant again with her third child - says she knew she wanted to be a surrogate the moment she gave birth to her eldest.
"It was the thought of someone never being able to have a child. I knew straight away one billion per cent I would be a surrogate," she says.
Laura had become friends with Melissa through a mutual friend and decided she wanted to help her once she heard about her circumstances.
After Melissa's first son was born, she tried for a second but lost three babies one after the other at around 20 weeks. Doctors advised against trying again.
So she tried surrogacy, first having another son and then turning to Laura when she wanted another child.
Shortly after Laura's 30th birthday, a frozen embryo - formed from the egg and sperm of Melissa and her husband - was successfully transferred to Laura.
Her daughters, her partner and the baby's parents were all present. "It's like having an extended family," she explains.
The pregnancy was straightforward - no morning sickness, no complications, and she had fortnightly scans with Melissa by her side.
The two exchanged daily updates by text.
When Laura felt the baby kick for the first time, her immediate thought was to let Melissa know. And it was Melissa and her husband's choice to find out whether it was boy or a girl.
"It was their child. I was the middleman," Laura says.
In her experience, a lot of people found that idea hard to grasp.
"People keep asking how did I give up the baby. I just laugh.
"I never doubted that I'd be able to do it. I did not feel attached. It was completely different - we all knew we were having a baby for them," she says.
"Some people thought I was silly, some were supportive and some people said it was amazing I could do it, but they never would."
Surrogacy is where a woman becomes pregnant with the intention of handing over the child to someone else after giving birth.
Generally, she carries the baby for a couple or parent who cannot conceive themselves - they are known as "intended parents".
There are two forms of surrogacy. In traditional surrogacy, the surrogate mother's egg is used, making her the genetic mother.
In gestational surrogacy, the egg is provided by the intended mother or a donor.
The egg is fertilised through in vitro fertilisation (IVF) and then placed inside the surrogate.
Surrogacy is allowed in the UK so long as the surrogate is not paid, or at least only paid expenses. Paying the mother a fee - known as commercial surrogacy - is legal in some US states.
Laura says that her partner was supportive from the start, understanding it was a selfless act by Laura.
The couple were open and honest with their own girls about the process, making it clear the baby was going back to her home, not their home.
A non-legally binding contract was drawn up with the help of surrogacy agency, Cots, to agree on what to do in case of the worst possible what-ifs.
The UK only allows for a surrogate's expenses to be covered, so Laura, a stay-at-home mum, was reimbursed for any maternity clothing, medication, travel and car park charges.
"I was never out of pocket," she says. "They will probably forever feel indebted to me but I would never expect anything from them."
In hospital, Melissa was by Laura's side when she gave birth. Her partner and Melissa's husband waited outside.
There were tears of joy all round when the baby was delivered. And next month the two families will be together again one year on, to celebrate baby's first birthday.
"It was as perfect as it could be. I will definitely do it again," says Laura, who has already pencilled in another surrogacy for January next year.