Terror trial: Big Ben among terror targets, court hears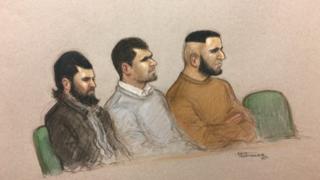 Big Ben and Heathrow Airport were among landmarks targeted by a British man who was "fascinated" by the so-called Islamic State, a court has heard.
Umar Ahmed Haque, 25, from east London, denies preparing acts of terrorism.
He is on trial at the Old Bailey in London alongside three other men, aged between 19 and 27.
Mark Heywood QC, opening the case, said Mr Haque had decided to "carry out one or more violent attacks" in the UK and had "identified methods and targets".
The court heard his other intended targets included the Queen's Guard, the courts, Transport for London, Shia Muslims, Westfield shopping centres, banks in the City of London, Parliament, the English Defence League or Britain First, foreign embassies and media stations.
Mr Heywood said the defendant was "fascinated" by the "warped and extreme ideology" of the banned Islamic State group, and that after arrest he told police that "he was their loyal follower".
Mr Haque, a religious teacher, allegedly enlisted the help and support of others at a mosque on Ripple Road in Barking - where he is accused of grooming children with "role play" and extremist videos.
He allegedly showed pupils as young as 11 videos of beheadings in a bid to "foster and encourage" them into adopting his extreme ideology at the Islamic school where he worked, the court heard.
Bugged conversation
Mr Haque and Abuthaher Mamun, 19, are both charged with preparing acts of terrorism between 25 March and 18 May 2017.
Mr Haque is further charged with preparing terrorist acts by leading exercises with children at the mosque and disseminating terrorist publications at the Lantern of Knowledge secondary school in London.
He taught at the Islamic boys' school in Leyton, east London, between September 2015 and September 2016, the court heard.
Muhammad Abid, 27, who was not present in court, is charged with failing to tell the authorities about the alleged plans, while Nadeem Patel, 26, is accused of conspiring with Mr Haque to possess a firearm or imitation firearm with the intention of causing fear of violence.
All four deny the charges.
In a bugged conversation with one of the other men, recorded days after last year's Westminster Bridge attack, Mr Haque allegedly said: "So what I want to personally [do] is launch different attacks in all the different areas.
"One in Westminster, one in Stratford, one in Forest Gate, one... In so many different areas, yeah," he allegedly said.
Mr Haque has admitted charges of collection of terrorist information and dissemination of a terrorist publication at the mosque, while Mr Patel admitted possessing a prohibited weapon.
The trial continues.