Vauxhall to Trump: We're not 'off'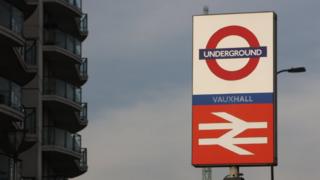 Residents of Vauxhall in south London have rallied to defend the area's reputation after Donald Trump was less than complimentary about it.
In a tweet announcing his decision not to open the new US embassy in London, the president said it was in a "off location".
Social media users reacted with defiance, many inviting the president to sample the south London culture.
So, what is the true nature of Vauxhall?
The leader of Wandsworth Council, Ravi Govinda, has pointed out that the embassy is part of a multi-million pound regeneration of the area.
"Tech giant Apple is moving its entire UK operation so it's clearly not an off-location for them," she said.
And being "just a three to five-minute ride by road into the centre of London," the area is "very much 'on site'," said Steve Pinto, chief executive of the Wandsworth Chamber of Commerce.
But despite disputing the president's claims, many were glad that he would not be visiting.
What's Vauxhall really like?
The Royal Vauxhall Tavern, a century-and-a-half-old cabaret bar at the heart of the area's LBGT+ scene, is a local landmark. It was quick to react to Mr Trump's tweet.
Jason Dickie, its manager, said it would be Mr Trump who would "miss out" by not visiting.
"There are new shops, restaurants, cafes all opening and rather than being a sleepy bit of London, it will be really vibrant," he said.
But he added that it was not all bad news: "People will just be glad he is not coming and it will save the taxpayer's money not covering his visit."
The locally-produced Big Question podcast suggested that the proximity of two supermarkets clearly demonstrated Vauxhall's desirability.
And artist Damien Hirst clearly thinks the area is not too shabby, choosing it for the location of his new gallery, which opened in 2015.
The Newport Street Gallery cost £25m to build, but is free for the public.
And if you are tired of London's hectic buzz, you can find something different at the Vauxhall City Farm.
At the farm, children can meet and pet animals, and people of all ages can learn to ride horses.
At the opposite end of the entertainment spectrum, the Urban Warriors Academy gym offers visitors a plethora of martial arts classes.
Duncan Easterbrook, its owner, said the area was "up and coming".
"I would like to extend an invitation to Donald Trump to come to the area, come to our gym, where we will welcome him with open arms.
"He can meet the people who live and work around here and see for himself that it is not an 'off' area," he said