Parking and bus lane fine appeals win four times out of 10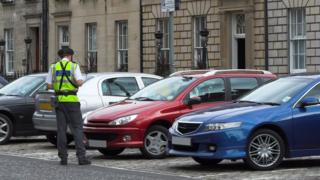 Almost half of drivers who challenged parking and bus lane fines issued by local authorities were successful, figures obtained by the BBC suggest.
Four out of 10 appeals to hundreds of councils across the UK over five years led to fines being cancelled.
Motoring group the RAC said the data was "frightening" and showed drivers were "right to appeal."
The Local Government Association said the figures proved councils had an "effective" appeal process.
Figures released under the Freedom of Information Act revealed that out of almost 4.3 million appeals, 1.8 million succeeded.
They show 84 councils accepted more than half of challenges.
Basingstoke and Deane council overturned fines in 90% of appeals.
Aberdeenshire had the highest rate of successful appeals in Scotland, overturning 70% of challenged fines.
Rhondda Cynon Taf in Wales cancelled 67% of challenged fines. The Northern Ireland Department for Infrastructure revealed 29% of appeals succeeded.
Councils say that fines are not about making money and that income from on-street parking charges and fines goes back into running parking services, with any surplus spent on transport projects.
'Driven mad'
Richard Chaumeton runs a roofing and scaffolding business in Kentish Town, north London, but says he has become "something of an expert" on appealing against parking tickets.
"The parking attendants in Camden all call me 'Trouble'," he said.
Mr Chaumeton has successfully overturned hundreds of Penalty Charge Notices (PCNs) issued to his firm's vehicles across London - including "about 1,500" issued in Camden alone over more than a decade.
With builders granted exemptions under the Traffic Management Act 2004 he says many tickets sent to his firm's vehicles should not have been issued, and criticised some authorities in the capital for their approach to appeals.
"They take it to [the Traffic Penalty Tribunal] to put as many impediments in your way as they can," he said.
"It's a very simple equation: it's all about money.
"They've driven us mad."
Camden Council said that it "may not always be obvious" to a parking warden that a vehicle belongs to a builder and is exempt.
A spokesman said: "As with other councils we take a similar approach to errors made in good faith."
He said the council would cancel PCNs the first time a driver incorrectly entered their registration number into a pay for parking machine and that any PCNs issued in error would be withdrawn.
Derek Dishman has helped numerous motorists challenge their parking fines.
Under the alias of 'Mr Mustard', he dealt with 345 cases in 2017 and said there were significant differences in how councils handle parking tickets across the UK.
He said authorities should be "lenient" when drivers have good reasons to ask for a refund, and urged motorists not be to scared of going through the appeals process.
"If I was a parking manager and people write in with a half-decent excuse, I would just let it go," he said.
"It's mostly people making innocent errors or failing to understand complicated signs."
You may also be interested in:
Five patients made 8,303 emergency calls
Two million to get 'big freeze' payments
The fun stopped here: England's derelict theme parks
'Difficult balance'
Councillor Martin Tett, transport spokesman for the Local Government Association, said: "As these figures confirm, people who want to challenge a parking fine have access to a clear and effective appeals process.
"Councils have to strike a difficult balance when setting parking policy, to make sure that there are spaces available for residents, high streets are kept vibrant and traffic is kept moving. They also need to ensure that emergency vehicles can get access to incidents quickly."
RAC spokesman Simon Williams said councils should put right the issues that lead to people being given "erroneous" penalties in the first place.
He said: "These figures are frightening because they reveal that in a very high proportion of cases drivers have been right to appeal. Councils should learn from this."
In Derby a ticket issued because snow was covering a parking permit was cancelled, while the Mayor of Leicester said he would cancel a penalty notice sent to a man who pulled into a bus lane to help a homeless man on Christmas Day.
What the councils say
Basingstoke and Deane Borough Council overturned one in every four of the penalties it issued.
Of the 12,804 fines that were challenged, 11,575 (90%) were cancelled. The council said new parking machines at council-run car parks installed in 2017 had reduced the number of successful appeals.
"This has enabled our car parking enforcement officers to focus more on on-street and inconsiderate parking through both an education and enforcement campaign," said Simon Bound, cabinet member for communities and safety.
Christchurch Borough Council, which had the second-highest rate of successful appeals over the five-year period, said it saw an increase in successful appeals after the Driver and Vehicle Licensing Agency (DVLA) stopped issuing tax discs in 2014, meaning some disabled drivers were erroneously penalised, and when the authority brought in a "virtual parking permit system".
Jonathan Ross, the authority's car parks manager, said "initial problems" with the new system have been "resolved" and errors "very much reduced".
A spokesman for Aberdeenshire Council, which saw 70% of PCN appeals between 2012 and 2017 succeed, said in dealing with first-time offenders "we generally take the view that the cost of pursuing payment is not the best use of resources".
"Rates of re-offending are low and the issuing of penalty notices is a useful tool in ensuring effective management of our car parks," he added.
Waverley Borough Council said about a third of appeals the authority accepted were due to mistakes using its phone payment system and it will often give drivers "the benefit of the doubt if it's their first mistake".
More on this story
The BBC sent Freedom of Information requests to every British local authority and the Northern Ireland Department for Infrastructure.
We received full data for challenges between 2012 and 2017 from 245 authorities.
Data on PCN appeals and cancellations can be viewed here.