Police 'ignoring' needs of detainees on periods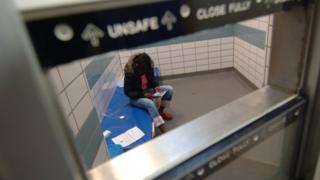 Police are "routinely ignoring" the needs of women detainees on their periods, the Independent Custody Visiting Association (ICVA) has said.
The way menstruating suspects are being treated in police detention could be in breach of human rights and equality laws, according to the IVCA, which monitors the treatment of detainees.
It called on the home secretary to introduce new guidelines for police.
The Home Office said everyone held in custody should be treated with dignity.
But the ICVA - which is funded by the Home Office - says women in England and Wales are often held in police cells without access to hygienic sanitary protection or facilities for washing and changing.
Many are not able to speak to a female police officer, it adds.
'Bleeding in a paper suit'
One woman, it says, had her clothes removed and was dressed in a paper suit.
Despite her having her period, her underwear had been removed and she was refused any sanitary protection.
"She was left in a state of vulnerability sufficient to cause concern for her wellbeing, bleeding in a paper suit, alone in a cell," the ICVA said.
Sherry Ralph, the organisation's chief operating officer, said that custody suites "typically only have one absorbency of tampon and towel available".
"One senior officer described the packs that they have to buy as 'woeful'," she added.
Far fewer women are arrested than men.
In 2016/17, 119,937 females were arrested in England and and Wales out of a total 779,660 people arrested.
The maximum period of detention in custody is four days, with judicial authorisation. For arrests under terrorism legislation, this rises to 14 days.
Evidence gathered by the IVCA suggests the problem of sanitary provision is widespread across forces in England and Wales.
The IVCA has now written to Home Secretary Amber Rudd, calling on her to take "swift action" to resolve the problems.
"No woman or girl should be left in indignity by police officers for want of a difficult conversation or an inexpensive box of tampons," the letter reads.
A copy of the letter has also been sent to Women and Equalities Minister Justine Greening and David Isaac, chairman of the Equality and Human Rights Commission.
Recommendations from the IVCA include:
During the booking-in process, women detainees should be asked about their needs in private
They should be provided a female officer point of contact
A hygiene pack should be offered automatically to all women, with a fresh pack offered after six hours
Hand-washing facilities must be available
CCTV monitoring should be pixelated or alternative arrangements made to allow women detainees to change in private
Where the removal of clothes is necessary due to risk of self-harm, the removal of sanitary protection should be subject to individual risk assessment
Dame Vera Baird, Police and Crime Commissioner for Northumbria, called the failure to offer automatic packages to detainees "lamentable".
"This must immediately stop and police must revise their process," she said, as she urged the home secretary and prime minister to "ensure action is taken".
The Home Office said it is working with the ICVA and the National Police Chiefs' Council "to understand where improvements can be made on this issue".