Storm Eleanor: 'Risk to life' as storm warning raised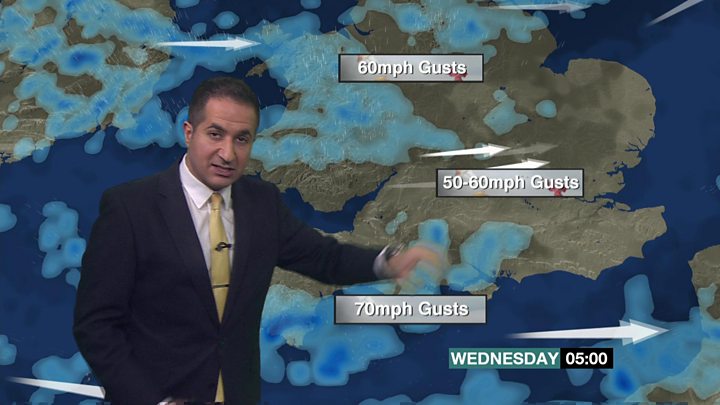 Winds of up to 90mph (145kph) forecast for the UK could pose a danger to life because of flying debris, the Met Office is warning.
As Storm Eleanor approaches, the threat level has been upgraded from yellow to amber across northern England, Northern Ireland and south-west Scotland.
A yellow warning of strong winds is in place for a larger swathe of the UK.
Power cuts are affecting 12,000 houses in Northern Ireland, 2,700 in England and 460 in Wales.
Two lanes of the clockwise section of the M25 near Chorleywood in Hertfordshire have been closed after a large tree fell in to the road.
The Met Office amber warning - which runs until 04:00 GMT on Wednesday - warns of power outages and says there is a "good chance" mobile phone coverage could be affected.
It said 80-90mph gusts were possible along exposed Irish Sea coasts and gusts of 70mph were likely "quite widely".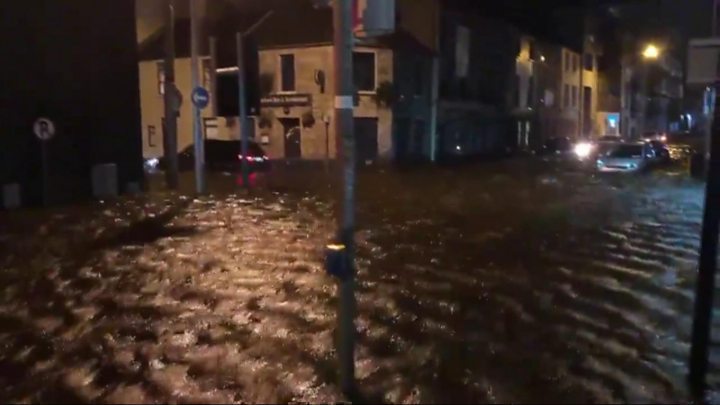 The Met Office also warned there may be travel disruption.
"Some disruption to road, rail and air travel is likely and ferry services may be affected," it said.
There is a chance of injury from beach material being thrown across sea-fronts, roads and coastal properties along west-facing coasts, the Met Office added.
The yellow warning, for gusts of up to 80mph, is in force until 18:00 GMT on Wednesday.
Storm Eleanor is the fifth named storm to hit the UK this winter.
There has already been flooding and 97mph gusts in the Irish Republic and 90mph gusts in Orlock Head, Northern Ireland.
The Met Office said it has also recorded 79mph gusts in Capel Curig in Wales, 77mph gusts in West Freugh in Dumfries and Galloway, and 72mph in Dundreggan, Inverness.
A gust of 69mph was recorded at Newquay Airport in Cornwall.
Highways England closed part of the Dartford Crossing - the Queen Elizabeth II Bridge - at 23:00 GMT for safety reasons because of high winds. It is expected to reopen before Wednesday morning's rush hour.
The Dartford tunnel will remain open, operating in both directions when the bridge is closed, it added.
Orwell Bridge in Suffolk will be closed overnight and is expected to reopen on Wednesday.
There have also been warnings of strong and potentially gusty winds for Wales.
National Rail says the windy weather is expected to cause delays to train services in Wales until about 06:00, on South Western Railway services until 09:00 on Wednesday and on services between Taunton and Penzance for the rest of Tuesday, as a 50mph speed limit is in place.
In Northern Ireland, there are reports that a number of roads have fallen trees, particularly in counties Armagh and Fermanagh, and three Irish Premiership football matches were abandoned at half-time.
About 12,800 homes across the southern counties will be without electricity overnight, NIE Networks said.
"Trees, branches and other flying debris have brought down power lines and poles," a spokesman said.
In England, almost 2,000 homes have been hit in the Midlands, while 700 in the South West and 460 in Wales are with power.
Ferry crossings to and from the Isle of Man have been cancelled as forecasters predict wind speeds in that area could reach 70mph.
Met Éireann, the Irish meteorological service, has issued an amber warning for the country.
About 55,000 homes are without power in the Irish Republic, predominantly in counties Mayo, Leitrim, Sligo, Galway, Cavan and Monaghan, power grid company ESB Networks said.
Connaught Airport recorded a gust of 97mph, the Met Office said.
The Environment Agency said "significant flooding" had been reported in Galway in the Republic and AA Roadwatch Ireland warned that motorists should avoid the city centre.
Meanwhile, the Environment Agency warned the combination of strong winds and high tides could cause some coastal flooding in the UK.
There are more than 60 flood warnings, meaning flooding is expected, in England, more than 30 in Wales and more than 10 in Scotland.
'Storm selfie' warning
Carol Holt, flood duty manager, urged people to stay safe.
"Take extreme care on coastal paths and promenades, and don't put yourself in unnecessary danger trying to take storm selfies," she said.
"If you're travelling, please check your route before setting off and don't drive through flood water."
Ceri Jones, from Natural Resource Wales, said: "Our advice is to keep at a safe distance from the coast, and from piers and promenades which will be particularly exposed.
"Large waves could overtop defences and throw up debris - this could easily cause injury or knock you off your feet."
Last week, an amber warning for wind was issued as Storm Dylan hit parts of Northern Ireland and Scotland.