UK weather: More snow brings 'nasty' travel conditions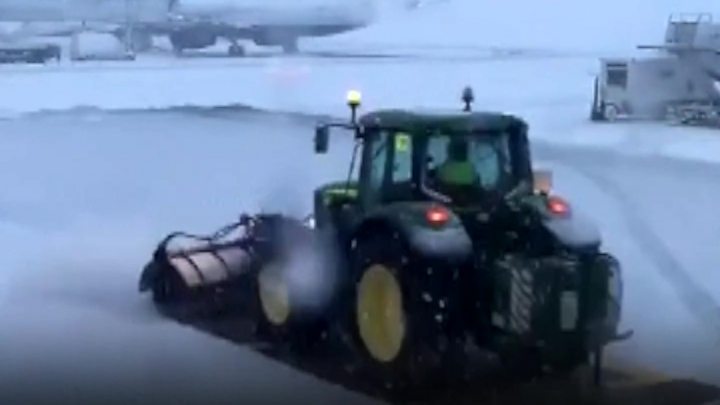 Snow, ice and winds will continue to buffer the UK on Saturday and into the new year holiday.
On Friday, snow fell across northern England and the southern Pennines, where a number of roads were closed.
The Met Office has issued a yellow warning for ice in Scotland and northern England on Saturday.
A yellow weather warning for rain is also in place over southern Scotland and Northern Ireland overnight on Saturday.
In Ireland, Met Eireann has named Storm Dylan, which is expected to bring strong winds to Ireland and the UK over the weekend.
As wintry conditions persist, a total of 10cm (4ins) of snow has been recorded in Glasgow, 8cm in Northumberland and 4cm in West Yorkshire.
The temperature plunged to -12C at Loch Glascarnoch in the Scottish Highlands overnight on Thursday.
Passengers at Glasgow airport faced delays after heavy snow caused flights to be temporarily suspended.
The RAC warned driving conditions would be very difficult, if not impossible, in the worst-affected areas of the UK.
Highways England urged people to plan their journeys, monitor weather reports and pack a snow kit of blankets, food, water and a shovel if they really needed to travel.
Road were closed across the UK, including the A537 Cat and Fiddle which was buried under a thick blanket of snow.
Power outages have been reported in the Midlands, south Wales and the South West.
Western Power Distribution said about 750 properties were without power at 19:00 GMT on Friday.
Northern Power Grid also said about 950 homes were cut off.
A number of ferry crossings from Plymouth and Portsmouth have been cancelled because of bad weather.
And an Aurigny Air Services flight from Guernsey to Manchester was forced to make a U-turn after claims that it was hit by lightning as it approached the Isle of Wight on Friday morning.
But after engineers examined the plane, airline Aurigny said it did "not believe it was actually struck by lightning" and there was no damage to the plane.
Meanwhile in parts of south Wales and south west England, the weather is wetter and milder, but windier.
Gusts of 50mph are likely in these rainier parts, with gusts up to 70mph possible in the most exposed coastal areas, the Met Office said.
Met Office forecaster Charles Powell said disruption was likely, because of the "pretty nasty travel conditions".