How do we count how many people are homeless?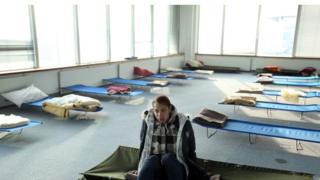 How many people in England are homeless? It's a difficult question to answer, so Reality Check has been looking at what figures are available to provide a picture.
As of autumn 2016, there were an estimated 4,134 people a night sleeping rough on England's streets, more than double the number in 2010 and a 16% increase on the year before.
These are estimates based on local councils collecting figures once a year.
They either conducting a street count on a single night or making an estimation based on intelligence gathered from local services.
This figure doesn't include people staying in homeless shelters or other temporary accommodation like hostels.
Who is homeless?
Although homelessness is often associated with images of people sleeping on the streets, in reality rough sleepers make up a small proportion of the total homeless population.
In the year ending September 2017, local authorities in England accepted 58,710 households as being statutorily homeless and agreed to house them.
This means councils had decided those people or families did not have somewhere to live that:
they had a legal right to occupy
was accessible and physically available to them
in which it would be reasonable for them to continue to live
It's hard to say how much this figure overlaps with the number of rough sleepers recorded.
Priority need
But this still isn't the full picture - local authorities don't have a duty to provide housing for all homeless people, only those they categorise as being in priority need.
Crucially, they must also consider that someone is "unintentionally homeless" before they will house them.
The 58,710 figure covers households who the council agrees are both "unintentionally homeless" and fall into a priority need category meaning the council has a duty to accommodate them.
Councils consider the following groups to be in priority need:
households with dependent children
pregnant women
people who are vulnerable in some other way, for example, because of mental illness or physical disability
In 2002, the vulnerable category was extended to include:
teenagers aged 16 or 17
those aged age up to 20 who have previously been in care
people who were vulnerable as a result of time spent in care, custody or the armed forces
people who have had to flee their home due to violence or the threat of violence
Temporary accommodation
Once the council has declared you "homeless and in priority need", it must find you temporary accommodation until permanent accommodation is sorted.
This can range from shared facilities at a bed and breakfast or women's shelter to self-contained flats leased by the council.
Homelessness rise
England, 2010-2017
134%
rise in rough sleepers
60%
rise in households living in temporary accommodation
77,000 families in temporary accommodation, March 2017, including...

120,000 children

£1.15bn council spending on homelessness 2015-16
PA
In September 2017, there were 79,190 households living in temporary accommodation, a 60% increase from the same period in 2010. Within this were 121,360 children, a 70% increase from 2010.
Of those who left temporary accommodation between July and September 2017, 59% had spent less than six months in it and 12% more than two years. However, these numbers change considerably if we look at just London, where 27% had spent less than six months in temporary accommodation and 39% more than two years.
Not vulnerable enough
There is a big group of people who don't have a place to live but are not considered vulnerable enough in legal terms to qualify for housing.
Single adults with no children who don't have any of the specific additional vulnerabilities listed above will generally not be entitled to housing if they become homeless.
In the year ending September 2017, 113,200 households in England applied to their councils for housing assistance because they said they were homeless.
Of those, there were almost 28,360 English households that councils agreed were homeless but said they did not have a duty to provide with housing.
Numbers of households accepted as homeless and eligible for housing assistance had been falling sharply from the early 2000s until the end of 2009. Since then, they have been gradually rising.
The most common and fastest-growing reason for homelessness is the end of an assured short-hold tenancy, which allows landlords to evict tenants after an initial fixed term without a legal reason.
'Intentionally' homeless
Since 2009, when the lowest number of applications was recorded, there has been a 37% increase in people in England found by councils to be homeless and a 42% increase in people found to be in priority need and therefore owed accommodation.
Some of these people were rejected for housing because they didn't fall into a priority category. For some, however, they were rejected despite being considered to be in priority need because the council said they were intentionally homeless.
Shades of grey
The term "intentionally homeless" is a very contentious one. The legal definition is someone who is homeless when there is something they could have done, or not done, to prevent this from happening.
The most common examples are failure to pay rent without good reason (a good reason would be, for example, illness, redundancy, failure to manage personal finances due to mental ill health) or being evicted because of antisocial behaviour.
But there are plenty of shades of grey.
Recent cases where a council's decision to find someone intentionally homeless was overturned in court included a pregnant woman who refused to stay in a hostel because of dirty conditions, and a woman who had fled her matrimonial home after experiencing domestic abuse but not violence.
Hidden homeless
There's a group of people who don't appear in any official statistics - the so-called "hidden homeless".
Polling conducted by ComRes on behalf of the BBC suggests that two-fifths of 16- to 25-year-olds in the UK have sofa-surfed at one time because they had nowhere to live.
One in ten of these young people did so for more than a month in total.
The charity Crisis estimated in early 2015 there were 3.52 million homeless adults "concealed" within households in England.
Housing is devolved and so is dealt with separately in Scotland, Wales and Northern Ireland.
ComRes surveyed 1,003 people in the UK online aged 16-25 between 1 and 5 December. Data was sampled and weighted to be representative of all people in the UK aged 16-25 by age, gender and region.
---
What do you want BBC Reality Check to investigate? Get in touch
---