Rebecca Dykes: Family of embassy worker describe her as 'irreplaceable'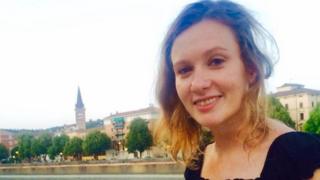 The family of a British woman killed in Lebanon have described her as "irreplaceable".
The body of Rebecca Dykes, who worked at the British Embassy, was found near a motorway in Beirut on Saturday.
Ms Dykes had been sexually assaulted and strangled.
Police in Beirut have arrested an Uber driver in connection with her death. It has emerged that he had served several prison sentences.
The man is expected to be charged with rape and murder later this week, police sources said.
Her family said in a statement: "For Becky to have her life cruelly taken away in these circumstances is devastating to our family.
"Becky is simply irreplaceable and we will never fully recover from this loss."
Ms Dykes, 30, had been working in Beirut as the programme and policy manager for the Department for International Development since January 2017.
She had been helping Lebanon to cope with the influx of refugees from the war in neighbouring Syria.
It is thought she spent Friday evening at a going-away party for a colleague in the popular Gemmayzeh district of Beirut.
After leaving the bar at about midnight it appears she was abducted. Her body was found close to a motorway on the outskirts of the city.
The Foreign Office said it was in contact with the Lebanese authorities and confirmed an arrest had been made.
The suspect was arrested in the early hours of Monday morning after police reportedly traced his car on traffic management CCTV.
An official told the Reuters and AFP news agencies the preliminary investigation had showed Ms Dykes's killing "was not politically motivated".
International community stunned
By Martin Patience, BBC Middle East correspondent, Beirut
The Gemmayzeh district of Beirut where Rebecca Dykes was last seen alive is well-known for having some of the city's best and most expensive bars and restaurants.
There is normally a relaxed atmosphere. It is a neighbourhood where foreign aid workers, diplomats and journalists mingle with wealthy Lebanese often into the early hours of the morning.
Despite the chaos seen elsewhere in the region, Beirut in recent years has been regarded as relatively safe. That is why this murder has left the international community so shocked.
After a late night out, many people would previously have thought nothing of catching one of the cabs that plough the streets, or calling for an Uber.
For a short while, anyway, that is likely to change. People will be more careful about how they get home. Beirut may be relatively safe but - as in any big city across the world - this murder is a reminder of the dangers.
Josie Ensor, the Daily Telegraph's correspondent in Beirut, says the case has left foreign residents in the city unsettled.
Speaking to the BBC, she said Beirut was a "very tight-knit community, so when something happens to one person, it feels quite close".
Ms Ensor, who was due to attend the same party on Friday evening, added Ms Dykes "had just landed on her feet in Beirut and was starting to make friends and getting to know the city".
Hugo Shorter, the British Ambassador to Lebanon, said the whole embassy was "deeply shocked" and "saddened" by the news.
Tributes were paid to Ms Dykes in the House of Lords on Monday.
The International Development Minister Lord Bates added: "It's obviously a very distressing time, particularly for Becky's family, but also for the people who worked with her.
"It reminds us of the sacrifice which is made by over 1,200 Dfid personnel who work around the world, often in the most difficult and dangerous of environments."
Prior to her posting in Beirut, Ms Dykes worked with the Foreign Office as a policy manager for its Libya team and as an Iraq research analyst.
She had reportedly been due to fly back to the UK for Christmas.