Ban sale of mini mobile phones, justice secretary says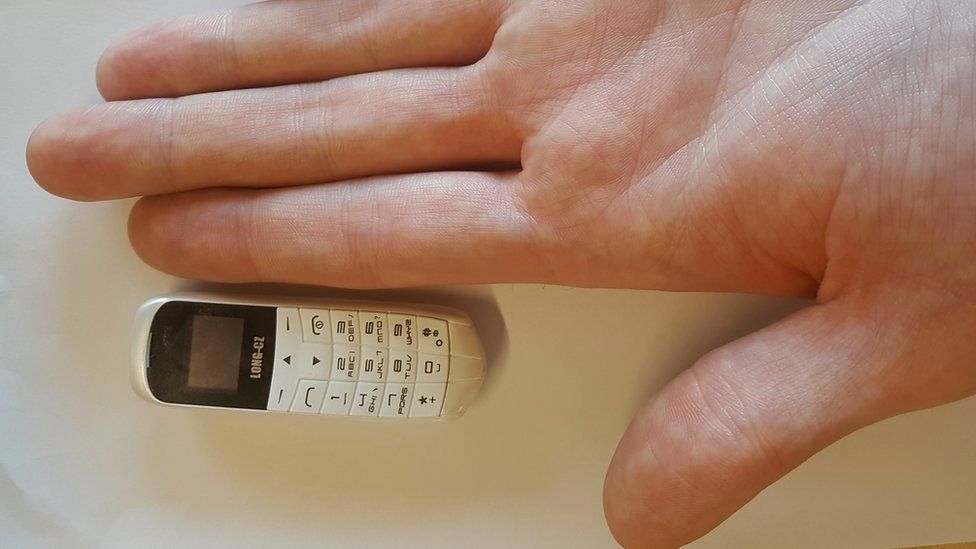 Online retailers should ban the sale of miniature mobile phones designed to be smuggled into prisons, the justice secretary has said.
David Lidington said the devices were advertised as being able to go undetected by the body orifice security scanners used in England and Wales.
"Beat the BOSS" phones can be bought for £25, but are reportedly changing hands for up to £500 inside jails.
About 20,000 illicit phones and Sim cards were recovered by guards in 2016.
It is estimated that up to a third of mobiles found are "beat the BOSS" phones, the Ministry of Justice says.
Some as small as a lipstick, the mini mobiles are readily available from online marketplaces.
They are marketed as being virtually metal-free and therefore able to beat the detectors anyone entering a prison must pass through.
"It's pretty clear that these miniature phones are being advertised and sold with the purpose of being smuggled," Mr Lidington will say in a speech on Monday.
"I am calling on online retailers and trading websites to take down products that are advertised to evade detection measures in prisons."
Mobile phones, which are banned in prisons, can be used to facilitate more crime and intimidate victims from behind bars, the Ministry of Justice says.
It says it has invested £2m in detection equipment, including portable detection devices, which can be used to find mobiles in prisons.
It is has also acquired new powers to block specific phones from accessing communications networks.
Mini phones are listed for sale on websites including Amazon, Gumtree and eBay.
EBay said it had made the decision to stop selling them some months ago and would make sure the justice secretary was aware it was "already going above and beyond" ahead of his intervention.
The firm said it would continue to manually remove any items that slip through.
The BBC has also contacted Amazon and Gumtree for comment.
Analysis: By Tom Symonds, home affairs correspondent
Just as those of us "on the outside" can't live without our phones, in prison they have become ubiquitous, prized possessions.
They are used to organise the lives of inmates intent on continuing illegal activity, be that the smuggling of contraband into prisons or ongoing criminal activities outside.
Prison staff can't listen to mobile phone calls as they do legitimate calls that prisoners make to their families.
And they're even harder for prisons to stamp out because they can be hidden inside people's bodies - hence the need for body orifice - or BOSS - scanners.