Was 2017 the year British sport lost its way?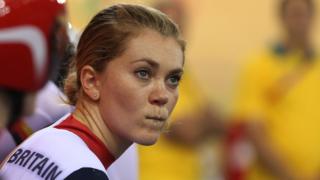 It never ceases to amaze me just how quickly things can change in sports news.
This time last year I reflected on the sporting highlight of 2016, the Rio Games, where Britain sealed its status as a true Olympic and Paralympic superpower.
With their remarkable medal hauls, Team GB and ParalympicsGB commanded the respect of the sporting world, venerated for supreme levels of preparation, dedication and professionalism.
The reputation of UK Sport - along with the national governing bodies it distributes lottery money to - was at an all-time high. Its ruthless "no-compromise" strategy, linking funding to medal potential, vindicated once again.
Yet just 12 months on, these organisations - the heart of the British sporting establishment - are under unprecedented scrutiny. Not, as was once the case, for a lack of success. But for winning at all costs.
Leadership in crisis
So what went wrong?
Few anticipated athlete welfare would become so important an issue when British cyclist Jess Varnish alleged she had been the victim of bullying and discrimination after being dropped from the Olympic squad last year.
It seemed an isolated case. But her complaint - backed up by other former riders - developed into the worst crisis the country's most successful sport has endured.
Over the past 12 months, British Cycling's entire leadership has been overhauled.
Its governance and culture has been condemned in an independent report. Public funding and sponsorship has been jeopardised. And UK Sport has been left to explain why it failed to know what was going on at one of its best-funded governing bodies.
In her first interview since the controversy began, Varnish told me in March that she might take legal action.
And so it proved. Her lawyers argue that publicly funded athletes should be treated as employees, and have the same rights that members of staff enjoy.
They argue that the current freelance-style contracts leave athletes too vulnerable in the event of disputes or grievances. Her lawsuit represents arguably the greatest challenge to the model of supporting (and controlling) British athletes since the arrival of lottery funding.
In the wake of Varnish's claims came a flood of other allegations from athletes across a range of sports.
In March, the BBC revealed that British Swimming had launched an investigation after 13 Para-athletes had complained about bullying.
In June, we broke the news that a coach working with the GB bobsleigh squad had been accused of racism amid numerous complaints of a "toxic atmosphere".
The British Winter Olympian Rebekah Wilson told me the stress and pressure of elite competition was so severe, she self-harmed.
Other stories were equally painful to hear. In a hard-hitting interview, former Team Sky rider Josh Edmondson revealed to me that the strain of training drove him to break cycling's rules by self-injecting vitamins and becoming addicted to controversial painkiller Tramadol.
Gymnastics was among a host of other sports embroiled in welfare controversies, and there were police investigations into alleged sexual misconduct by coaches in canoeing and archery.
Duty of care
Sport clearly had an issue - not only the fact that these incidents were happening in the first place but also with how they were handled.
Amid this crisis of confidence in athlete duty of care, grievance and whistleblowing procedures, came the Eniola Aluko affair.
The footballer alleged she had been the victim of bullying and racist comments by the England women manager Mark Sampson. He was cleared twice, but then sacked over evidence of inappropriate behaviour with players while an academy coach in a previous job.
Having been forced to make a humiliating apology to Aluko after a third inquiry, and a disastrous performance in front of a parliamentary select committee, the Football Association's senior executives were left clinging to their jobs.
What had begun as a dispute between player and coach had been allowed to develop into a full-blown crisis, exposing the governing body's record on safeguarding, equality and inclusivity like never before.
But the scrutiny of British sport's integrity did not stop there, with mounting concern that the classification system in Paralympic disciplines may have been abused.
Sports ombudsman?
Britain's former Paralympic star Baroness Grey-Thompson told MPs that some athletes had even been threatened with deselection if they dared speak out about their concerns. British sport, it seemed to many, had a problem with openness.
The intensifying pressure rugby and football came under to investigate the effects of repeated concussion and heading respectively on brain injuries reinforced the sense of a fundamental shift in the dynamic and trust between athlete and governing body.
There was no shortage of controversy elsewhere, from England cricketer Ben Stokes' infamous late-night fracas and Russia's unprecedented Olympic ban for doping, to Neymar's world record transfer and cyclist Chris Froome's adverse drugs test.
But it is the story of athlete welfare that has perhaps raised the most fundamental questions, as sport looks ahead to 2018.
Will more allegations emerge? Will the British sporting establishment - now led by an ex-athlete, UK Sport chair Dame Katherine Grainger - properly tackle these issues and improve the way it deals with them?
Is the "no-compromise" approach partly to blame? Will Varnish win her legal battle? Has the time come to grant Olympic and Paralympic athletes - along with coaches - more effective representation in the form of a trade union?
Do we now need an independent sports ombudsman to look into disputes, as suggested by Grey-Thompson? And will caring more about duty of care mean more medals - or fewer, as some believe?
And what will the ramifications be of the long-awaited independent investigation into historic child sex abuse in football, due to be published in the coming months? Not just for safeguarding regulations at the FA, but for all governing bodies?
As Ian Braid, the former head of the British Athletes' Commission and now managing director of DOCIA sport (Duty of Care in Action in Sport) puts it: "British sporting success is something to be proud of, but my role at the BAC showed that it was often achieved at a great cost in terms of the welfare of not just athletes but coaches and administrators too.
"Sport has a choice; to either close ranks and lose people's confidence, or embrace duty of care and create a sustainable system so we can all be proud of what we achieve, both on and off the field of play."
Sport is clearly not alone in being forced to confront some very tough questions about how it has enabled some individuals to exploit their positions of power, and why victims have felt unable to speak out. The movie industry and Westminster politics are obvious other recent examples.
But 2017 will be remembered as the year when it dawned on British sport that winning is no longer enough. These days, how it wins matters too.