Central Saint Martins refunds dramatic writing students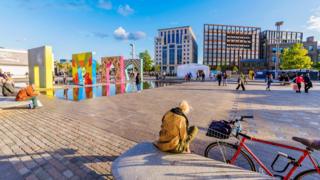 A top UK fashion institution has given 21 students who took a dramatic writing course a full £5,000 refund.
Central Saint Martins, whose alumni include Alexander McQueen and Stella McCartney, said the 2016-17 dramatic writing masters course had fallen "below our usual standards".
It said students had complained about the size of the class, "teaching intensity" and poor organisation.
It is the first time the college has made a group reimbursement.
'Duty of care'
Central Saint Martins, which is part of the University of the Arts London, said it had recruited new staff and addressed the issues raised by the students.
In an online statement, the university acknowledged that the course had failed to meet the expectations of many students, saying: "In academic year 2016-17, UAL fell below our usual standards in MA Dramatic Writing, a course taught at Central Saint Martins.
"We therefore reimbursed students on the course up to the full amount of their fee, acting promptly through our student complaints procedure."
However, the Times has reported that some students remained unhappy despite the refund because they felt they had wasted a year and others were not impressed with having to sign a non-disclosure agreement, meaning they would have to return their refund if they spoke publicly.
Central Saint Martin's media relations adviser Jo Ortmans told the BBC the non-disclosure agreements were needed because it had a duty of care to protect the identities of both the students and tutors involved.
She also said that the students were able to keep their degrees despite the refund, adding: "They've done the studies and completed the work they needed to do."