In it for the 'buzz': Why I go treasure hunting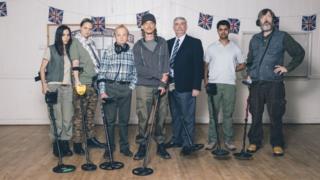 More treasure was discovered by members of the public in 2016 than ever before and almost all of it was unearthed by metal-detector users, whose hobby has found small screen fame in BBC comedy, Detectorists.
"It's a real buzz when you're getting good signals," says Brian Read, 78.
"It can of course turn out to be lead."
For some it may seem an unlikely hobby; scouring the land for forgotten bits of metal with a pair of headphones on.
But 1,120 treasure discoveries were made by the public in 2016 - the highest annual figure since the Treasure Act came into law 20 years ago.
Brian and his partner Valerie go out detecting twice a week, near their home in Somerset. He first picked up a detector in 1978 after buying it for his son.
"I became hooked," he says.
And being out in the countryside and getting some exercise has kept Brian hooked ever since.
"It's exciting. When you do discover something it does give you a thrill and you think, 'Who was the last person to handle that?'"
Occasionally the pair will join a group, or even the "odd rally".
"We always find something," he says.
'Hardcore detector nuts'
Brian is also fan of the BBC Four Comedy, Detectorists, starring Mackenzie Crook and Toby Jones, which has been credited with inspiring a new wave of amateur hunters.
"It's a breath of fresh air," he says. "And it's good publicity for the hobby."
What qualifies as treasure?
In England, Wales and Northern Ireland, all gold and silver objects and groups of coins (two or more) that are more than 300 years old must be reported
Under the Treasure Act, all treasures finds must be reported to the local coroner within 14 days of the discovery - you could be fined or even face three months in prison if you don't
A local finds officer will write a report on the object and a valuation committee will decide its worth
The finder and the person who owns the land it was found on could be entitled to a share of the money
Source: www.gov.uk/treasure
There are few rules for detectorists, but permission must be granted by the landowner and restrictions apply on certain protected sites.
However, it's not all clear skies and rolling landscapes, you've got to be prepared to go out in the rain and mud, which - Brian says - is where some budding detectorists lose interest.
"You get the hardcore detector nuts that will continue."
After all, there are hardly "swarms of detectors roaming the countryside", he points out.
Brian made one of the most significant finds of 2016 - he unearthed a pottery vessel in filled with Roman coins dating back to 253-296 AD in Dorset.
But this wasn't his most memorable find.
"Beauty is in the eye of the beholder," Brian says, before adding that he's more partial to personal finds like brooches or buckles, instead of coins.
A lot of his findings are now in museums or with the landowners whose land they were found on, but the ones which aren't are special too.
"Everything in my eyes is a treasure. I just like to see it, look after it and give it a good home."
As well as the items deemed "treasure", there were a further 81,914 archaeological finds recorded through the Portable Antiquities Scheme across England, Wales and Northern Ireland, in 2016.