'I saw predators targeting children on streaming services'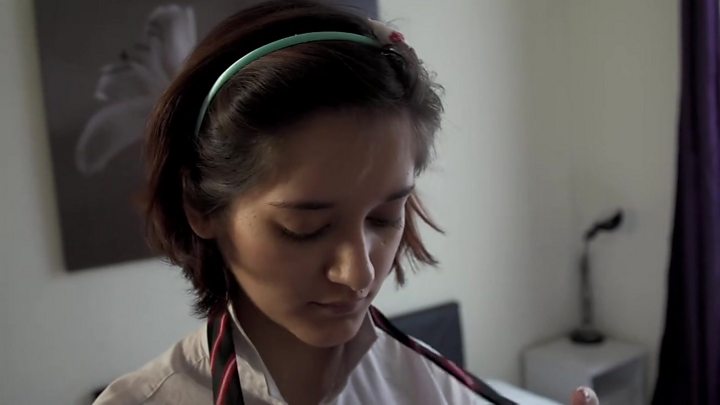 Police are warning parents that their children could be groomed by sex offenders using online streaming services. The BBC's Angus Crawford has been investigating what gets shown on live streaming apps.
There were broadcasts where users bullied children to carry out increasingly risky, sexualised dares. Where they demanded personal contact details. And in some circumstances exposed children to obscene material.
On one live streaming app, with an age rating of 17, I saw a nine-year-old girl - going live for the first time - being asked by a user to take her clothes off.
As part of my nine-month investigation I came across another child of the same age. Almost 1,000 people were watching her broadcast, the requests and comments are too disgusting to write here.
I made police and the NSPCC aware of all those children. I also sent on a list of users posting offensive comments. The majority were anonymous and probably untraceable.
Age verification
For many parents the world of live streaming apps is a bewildering one. Every month new ones emerge, to become the latest "must do".
Easy to download and simple to use, at their most basic they allow young people to broadcast live to the world from anywhere; classroom, playground or bedroom.
Some only let a limited number of people see the broadcaster but others are open to anyone using the app, and that includes predators anywhere.
So what are the most popular live streaming apps? Facebook, Instagram and Snapchat all allow some form of live capability. Periscope, Omegle, Liveme and Lively are just four of the pure live streaming services.
Most of them do have some form of age verification - but they vary in how effective they are. Some claim to have a 17-age rating, for others it's 13. But, basically if you can count and have a phone you can probably get yourself online.
Virtual gifts
Once live, content is meant to be monitored and moderated. But I've seen only patchy evidence of that. How do you regulate a live broadcast in real time?
The solution for one app is to allow viewers themselves to vote on whether a suspect post should be taken down.
The problem with that is that if the majority of those watching have bad intentions, then (and I have witnessed this) they vote for the offending comment to stay up.
It's easy to see why children like the apps. It's immediate, it seems like fun, and many idolise the vloggers and youtubers doing the same thing. The more viewers or "likes" the greater the affirmation for the child.
Some of the apps even allow viewers to send virtual gifts, which can be cashed in for real money. One could argue this is another incentive for risky behaviour.
So why are tech companies rushing into this market?
It seems to be all about the magic word "engagement". Video engages people for longer than anything else online. And advertisers love that. The more video a platform can boast, the more advertisers it can attract.
In addition, on some platforms users have to pay real money to buy virtual gifts to send to their favourite broadcasters. Another regular revenue stream for the app makers.
The growth of live streaming apps poses a stark question for the tech industry - one underlined by the NCA campaign. When you create an app which allows children to broadcast live to the world from their own bedrooms, and allows the world to talk back, is it really possible to keep them safe?