A childhood memory of 'nicest gift' prompts festive cheer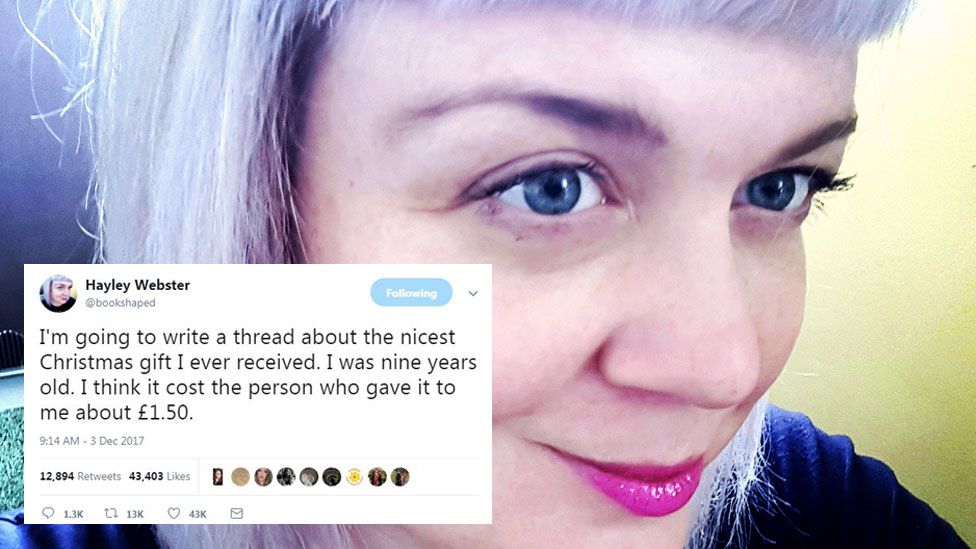 'Tis the season to be giving and just as we plan presents for loved ones, we also remember the gifts we've received and sometimes it's the smallest things which make the biggest memories of all.
For Hayley Webster it was a piece of sheet music. She decided to share the memory on Twitter, but has told the BBC she never expected it to resonate with as many people as it did.
"I'm going to write a thread about the nicest Christmas gift I ever received. I was nine years old. I think it cost the person who gave it to me about £1.50," Hayley posted on Sunday.
She went on to describe a time when she and her sister were living with their dad, as her parents were "not in a good place".
She didn't see her mum much, but her dad's girlfriend was around and "made things nice".
In the run-up to Christmas, Hayley went out of her way to make things special for her little sister, then four years old.
She put tinsel around her spoon, cut her sandwiches into snowflakes and left glitter footprints around the house.
Her dad's girlfriend noticed this and said it was a shame no-one did it for her.
Later that week, Hayley received a thank you gift from Santa's elves; piano sheet music for We're Walking in the Air, from The Snowman.
That gift, she said, taught her "what it means to be noticed for who you are", adding that it has lasted "as warmth" her whole life.
"Notice people... Not just at Christmas," she urged.
We also have memories of this sheet music! In very different family circumstances my sister wrote out a more difficult piano part that we both learned. I still have it among my Christmas music! pic.twitter.com/60l8cIn79A

— Alice Little (@littleamiss) December 3, 2017
Within 24 hours the original tweet had attracted more than 40,000 likes and almost 12,000 retweets.
"I've never had anything that's gone so big before, it's very exciting," Hayley said.
Um. Can I squeal now or later? I can't imagine how many kids (and grown ups *waves furiously*) like I was, have been helped by reading Harry Potter. https://t.co/PiRUaknwyr

— Hayley Webster (@bookshaped) December 3, 2017
"I was just thinking about what I remember the most about Christmas as a child and this was it," Hayley said.
"It's just a small thing about noticing people and it's a thing we can forget to do."
Hayley lives in Norfolk with a daughter of her own and said her sister still remembers the small gestures Hayley did for her and which she now does for her own children.
Oh wow. That's so beautiful. What a story to find. Welled up about being seen. Those things are so special. Wishing you a great Christmas!

— Daniel Ian (@danielianphoto) December 3, 2017
The story prompted an emotional response online, with many admitting to crying over their keyboards.
"Totally sobbing right now," wrote one user.
That's the loveliest Christmas story and I love love love that someone noticed all you were doing and wanted to do something for you, that's so incredibly important.

— Michelle Birkby (@michelleeb) December 3, 2017
Honestly this tweet just made my day bright in a very dark time here in America. It was my mom who always made every Christmas special with the food she cooked and a special things she did. You made me remember her even though she's gone now 5 Years. Thank you for sharing this.

— JaneAustenSays (@MadKCLaLa) December 3, 2017
Hayley - who writes children's books under the name Hayley Scott - said this story could even find its way into a future book.