British volunteer fighter Oliver Hall dies in Syria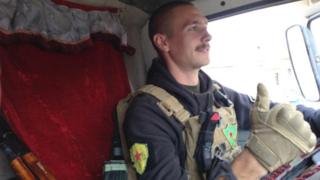 A 24-year-old British man has been killed in Syria, the BBC understands.
Oliver Hall, from the Portsmouth area, joined Kurdish armed groups to fight against so-called Islamic State.
Another British fighter described him as a "lovely lad" who was "excited to be there".
Kurdish sources say Mr Hall was killed on 25 November while clearing mines in Raqqa. He is the seventh British man to have been killed in Syria with the Kurdish-led group the YPG.
In a video recorded by the YPG to be released in the event of his death, he said: "I came here of my own free will, knowing the risks and consequences that can follow.
"Greetings to all my family and friends, if unfortunately you are seeing this. Biji Kurdistan (long live Kurdistan)."
Kurdish representatives in London said Mr Hall was killed while "clearing and dismantling mines".
He had no prior military training before travelling to the conflict in August.
Kevin Benton, an ex-soldier and British volunteer who met Mr Hall in Syria, said: "He was so willing to learn, always asking questions and taking everything in. He wanted to stop Isis."
'Sadly missed'
There have been a series of deaths in recent months - Mr Hall is the fourth British volunteer fighter killed in the Raqqa operation since July.
He travelled to Iraq then crossed the border into Syria, according to friends, where he attended the training academy of the Kurdish armed units the YPG, known as the People's Protection Units.
After two weeks of military training Mr Hall joined a newly formed unit within the YPG made up of international volunteers from Britain and the US.
"I spoke to him last week just to see how he was doing, he seemed happy," Mr Benton said.
"He wasn't a soldier before he came to Syria, but he was professional and was really keen to learn. He was a very popular guy, everyone liked him"
"He wanted to be at the front, and wanted to be right where the action was, and he wasn't scared to go.
"He will be sadly missed."
The Kurdish-led YPG are part of the US-backed Syrian Democratic Forces who have been fighting against Islamic State, assisted by airstrikes carried out by the international coalition.
In October there were scenes of celebration among SDF fighters as the battle for the IS capital Raqqa came to an end.
However, many bombs and explosive booby traps have been left around the city.
The YPG is not a proscribed group in the UK, but British authorities have warned that anyone fighting abroad with armed groups risks breaking counter-terror laws.
Authorities have issued repeated statements aimed at deterring people from travelling to Syria.
Many British volunteers who have spent time with Kurdish armed groups in Syria have been arrested and investigated by police on their return to the UK.
A statement from the Kurdish Solidarity Campaign in the UK said: "Our deepest sympathies are with the family and friends of Ollie Hall at this time.
"Ollie's family have requested that they are left alone by the media for now to be able to process this shocking and tragic news."
The British Foreign office has not commented.
Britons killed in Syria
Mr Hall's death brings the total number of Britons killed while fighting for the YPG in Syria to seven.
Jac Holmes: A 24-year-old former IT worker from Bournemouth, Mr Holmes died while attempting to clear landmines in the city of Raqqa.
Mehmet Aksoy: The 32-year-old British film-maker from London was killed in September 2017, after travelling to Syria in June.
Luke Rutter: The 22-year-old from Birkenhead, in Merseyside, was killed in June 2017 after his regiment were ambushed by IS forces in Raqqa.
Ryan Lock: A 20-year-old former chef from Chichester, Mr Lock died in December 2016 after turning his gun on himself to avoid capture.
Dean Carl Evans: The 22-year-old from Reading died in July 2016, while fighting in the city of Manjib.
Konstandinos Erik Scurfield: The 25-year-old ex-Royal Marine, from South Yorkshire, died in 2015 to become the first Briton killed while fighting against IS in Syria.