Oxford Circus panic: Pair released after police questioning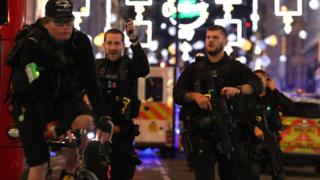 Two men questioned over an altercation that sparked panic in London's Oxford Street on Friday have been released without charge, police have said.
The pair - aged 21 and 40 - were quizzed on Saturday after attending a police station voluntarily.
British Transport Police are investigating after panic erupted inside Oxford Circus Tube station.
A number of people were injured, with nine hospitalised, after people fled the station amid reports of shooting.
Armed police were sent to the scene and initially treated the incident as potentially terror-related.
However, officers said they had found no evidence that any gunshots were fired.
Police later said the incident - which resulted in the temporary closure of two Tube stations - may have been caused by an altercation between two men on a Central Line platform.
They released CCTV images of two men they wanted to speak to in connection with the incident.
'No criminal proceedings'
Confirming that two men had now been released, a spokeswoman for British Transport Police said: "There are no criminal proceedings against them.
"They have not been arrested or charged."
Officers are still going through CCTV footage and speaking to witnesses, the force said.
No further suspects are being sought.
Oxford Circus - where Oxford Street and Regent Street meet - was cordoned off during the incident, while shops and businesses were placed in lockdown.
Shoppers were barricaded inside stores in Oxford Street, as armed police were deployed.
However, within 90 minutes the officers had been stood down.
Paramedics said people were injured in the rush to flee the station, described by eyewitnesses as a "stampede".