Being a granny in your 30s 'just adds to your tribe'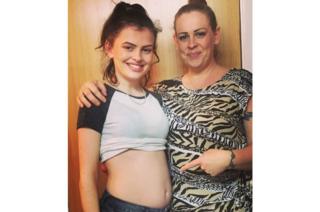 On the day Labour MP Angela Rayner announced she had become a grandmother at 37, BBC News talked to other grandparents in their 30s.
One of them is mother-of-four Laura Summerfield from Norwich, who in four months' time will herself become a grandmother at the age of 37.
"I'm over the moon, I'm absolutely over the moon."
Her daughter Jas will be 18 when she gives birth to her son and Laura's grandson in March.
"When my daughter told me she was pregnant, I thought 'there's no way I'm going to put a dampener on it'.
"She's been through a horrific couple of years, been very, very troubled as a teenager and I feel like this pregnancy has saved her really.
"She's on the straight and narrow now, she's finally kind of knuckling down and showing she can do this, she can be responsible."
You may also like:
Laura had her eldest child when she was 19 and says she wanted to react to her teenage daughter's news in a way completely different to how her parents had when she announced her own pregnancy in the late 1990s.
"[Having] had me and my sister in their 30s, it was quite a shock for them [my parents] I suppose to find out their teenage daughter was pregnant.
"They were very kind of quiet about it for quite a long time, it took them a while to accept it."
Asked if she is ready for the new arrival, Laura says she cannot wait.
"I want to be hands on, I want to help her, I want that relationship with my grandson.
"It's given me a new lease of life really, I've always wanted a big family.
"This new addition is just perfect."
Terry and Lin Tew first became grandparents at the age of 38 and they now have eight granddaughters and six grandsons.
The couple, who are both 62, married in 1974 when they were 18 and they had their first child shortly after.
"The joy, fun and love that they have given us has been amazing.
"The years have gone fast but we have all had the most fantastic time together and the memories are endless.
"We all get together whenever we can and always for a week's holiday in the summer and Christmas, and now we are joined by (grand) boyfriends and girlfriends.
"It seems that one minute they are little toddlers and the next they are out at work making their own way in life.
"They have all been so much fun and I never really wanted them to grow up but the love they give my wife and myself is beyond compare."
'Do it for the kids'
According to the most recent research from national charity Grandparents Plus, the most common age to become a grandparent for the first time is in your 50s.
An estimated one-fifth of people aged between 45 and 54 have grandchildren.
What of the perks of being a grandparent who has not reached middle age?
"You still have the drive and energy to chase after them," says Michelle Lancaster, who became a grandmother at 39.
"You have the energy to get up with them at night," and she says "best of all, you haven't lost that motherly instinct".
"I was raised on a council estate in London. A pregnant young, single mother, and placed on the scrap heap.
"I went on to become a local councillor, and now have my own business earning six figures a year, and all as a single mother.
"When life continually knocks you down, you have to come back fighting and never give up, and you do it all for your kids."