G4S orders independent inquiry into immigration centre staff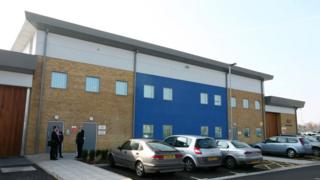 Security firm G4S has commissioned an independent inquiry to review the "attitude and behaviour" of staff at an immigration removal centre it runs.
Staff at Brook House were allegedly caught "mocking, abusing and assaulting" people being held there in covert footage filmed for BBC Panorama.
G4S has a government contract to run the centre near Gatwick Airport.
It has appointed an outside consultancy to conduct the inquiry but has not said whether the findings will be published.
In September, Panorama aired footage recorded by ex-custody officer Callum Tulley at Brook House, which holds detainees who are facing deportation from the UK.
Security firm G4S has since dismissed six members of staff at the centre and a number of other staff have also been disciplined.
Brandon Lewis, the immigration minister, is expected to be questioned by MPs today about whether his department had concerns about the centre before the programme was broadcast.
BBC News has now seen a letter from G4S to the Commons Home Affairs Select Committee which says the firm has commissioned an independent review to understand the "extent and root causes of the treatment of detainees" at Brook House.
It has appointed investigators from consultancy organisation Verita, which carried out a review of practices at Yarl's Wood immigration centre in Bedfordshire.
The investigation into Brook House will examine G4S's "operational policies and management", the treatment of detainees by staff, and the failings of whistleblowing procedures.
BBC's home affairs correspondent Danny Shaw said the inquiry is an indication of how seriously G4S regards the alleged abuse at Brook House.
He added that the Home Office is still considering whether to renew the company's contract.
The Equality and Human Rights Commission last month urged ministers to set up a public inquiry into wider issues with immigration centres - including allowing private firms to run them - but it says it has so far had no response from the Home Office.
Home Secretary Amber Rudd, when asked about the Brook House programme at the home affairs committee last month, said she had been "disgusted" by the footage.
"It is completely unacceptable, and they have put together a plan of implementation to correct it," she told the committee.
Brook House was branded "fundamentally unsafe" in 2010 - a year after opening.
Three years later inspectors said they saw sustained improvement.
The most recent report from HM Chief Inspector of Prisons, released in March this year, said some detainees had been held for excessive periods due to "unreasonable delays in immigration decision making".