New portraits released for Queen's platinum anniversary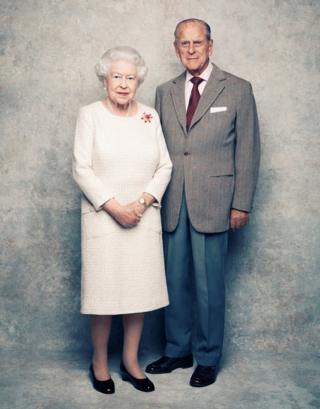 Three more portraits of the Queen and the Duke of Edinburgh have been released to commemorate their platinum wedding anniversary.
On Monday it will be 70 years since their marriage at Westminster Abbey. The church's bells will ring for more than three hours to mark the occasion.
The couple will celebrate at a private dinner in Windsor Castle.
Queen Elizabeth is the first British monarch to celebrate a platinum wedding anniversary.
The images are part of a series by celebrity photographer Matt Holyoak, whose first portrait of them was revealed on Saturday.
The Queen wears a cream dress designed by Angela Kelly, her dressmaker for the last 15 years.
Her golden "Scarab" brooch was a gift from Prince Philip in 1966.
When they married, the monarch was 21 and the Duke a 26-year-old sailor who had served in the Royal Navy.
Winston Churchill summed up the occasion in 1947 as "a flash of colour on the hard road we travel".
Prince Philip is the nation's longest serving consort and the Queen its most enduring monarch.
The pair will welcome their sixth great-grandchild in April.
Although the Queen continues with many of her duties as head of state, Prince Philip, 96, has retired from royal duties.
The Royal Mail has issued a set of six commemorative stamps for the occasion that feature the couple's engagement and wedding.