'I was shot in the knee as a punishment'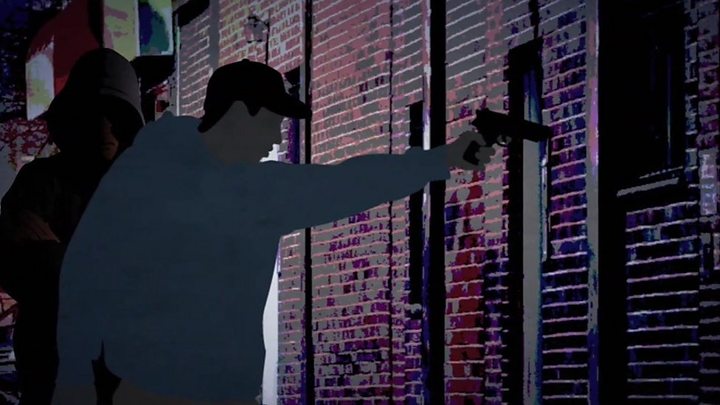 Campaigners in Northern Ireland have expressed concern about a resurgence of so-called "punishment attacks" including assaults using everything from iron bars and sledgehammers to electric drills and kneecapping.
The number of reported incidents is at its highest since 2010 and in 2016-17 there were 94 reported casualties of shootings and assaults - up 30% on the previous year.
The self-appointed men in charge - in both Protestant Loyalist areas and Catholic Republican communities - mete out "punishment" for things like drug use and anti-social behaviour.
Since 2009, 47% of attacks have targeted people aged 25 and under - some of them children - according to figures from the Police Service of Northern Ireland (PSNI).
Teenagers James and Thomas - not their real names - were willing to tell the Victoria Derbyshire programme their stories.
Thomas
"I used to be a happy child - always up and bouncing. Then I did one or two bad things and they were just picking on me and picking on me. I was trying to change my life around and they were still picking on me."
In some cases, the parents of victims are faced with a dreadful dilemma: protect their child or hand them over to paramilitary groups for so-called "appointments". That's what happened to Thomas.
"My mummy visited me and said 'Listen I've been talking to someone to try and sort it out to get someone to give you an easy shooting'. I put my shoes on straight away and said 'Yes, let's get it over and done with'.
"On the night it happened I was told to walk up the street and I looked behind me and two men were there. I turned around and said to them, 'there are 10 times as many people out there doing worse than me'.
"He just said, 'listen kid, I'll look after you'. How's that looking after you? I know people in the organisation who were stealing cars and selling drugs, still selling drugs. They're scumbags.
"The first time they shot me I only moved a bit but the second time they shot me I was screaming. It went right through and hit my main artery. It busted my whole knee bone."
Thomas says the incident worsened his mental health problems.
"I've actually lost count of how many times I've tried to kill myself."
James
"They got in contact with someone in my family. They told me that I had to go and meet them. I changed my trousers, went out of my house and went to the pub. I had two pints and then I got the text message that I had to go, so I walked over on my own.
"And that was it. I walked to the place they told me to go and they were standing there. They showed me the gun and told me to lie down on the floor."
James was then shot in the leg.
"It's a burning sensation for like two minutes straight and then it stopped for 30 seconds - then it started again. It was burning and burning."
He admits he had done something wrong, but says it had already been dealt with legitimately through the courts.
"I was punished for what I did, there was no need for them to shoot me. A court of law is for punishment. There was no need for them scumbags to do anything to me."
James says he is "disgusted" by what happened to him, adding that the people who shot him had committed worse crimes than him in the past.
The number of these attacks has drastically reduced since the height of the Troubles, but campaigners believe more could be done to eradicate them.
Church leaders across Northern Ireland have released a statement condemning the threat against young people, timed to coincide with UN Universal Children's Day on Monday.
"We need to ask ourselves whether the legacy of violent conflict here has caused us to feel powerless to challenge the culture that supports the continuation of this type of violence," it says.
'Terrible toll'
Paul Smyth has helped to establish the Stop Attacks forum, a coalition comprising youth workers, academics and activists.
He says these attacks have devastating mental health consequences for victims.
"I know of several examples where young people have been shot or beaten by paramilitary organisations and within a matter of weeks they've taken their own lives. It's a double tragedy for families and it's a terrible toll that our society is taking for this ongoing problem," he says.
A joint taskforce comprising the PSNI, the National Crime Agency and customs officers has recently been established to tackle paramilitary activity.
Det Superintendent Bobby Singleton, from the PSNI, said the attacks were an attempt by some of the groups to continue to exert their influence within communities.
"This is one area where they see a degree of populism and they see it as a way to re-establish and promote legitimacy within communities. I'm committed to denying them any oxygen in that respect."
In the wake of the 2015 Fresh Start Agreement, a £50m programme designed to tackle paramilitarism and organised crime was established by the UK government and the Stormont executive.
As well as funding the joint task force, the programme also focuses on trying to change attitudes in communities where paramilitaries operate.
A UK Government spokesperson said: "The overall programme of work to tackle paramilitary activity will require political support, as well as support from the police and the community.
"The brutal shootings and serious physical attacks, often on young people, that have been happening in communities to intimidate people was never justified in the past and cannot be justified. "
Watch the Victoria Derbyshire programme on weekdays between 09:00 and 11:00 on BBC Two and the BBC News Channel.